The Marianist Matchmaker
Curious about the Marianists? Want to deepen your involvement with them or find a spiritual home with a Lay Marianist community? Those are the spiritual seekers Kateri Dillon wants to connect with in her new role as Community Engagement Coordinator for the Marianist Lay Community-North America (MLC-NA).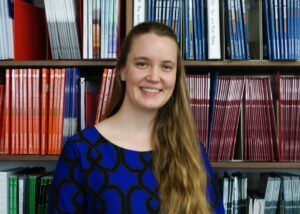 "My job is to identify and match people who want to join a community or get involved with a Marianist initiative," she said. "I consider their interests, geographic locations, and goals, then work with them to find ways they can become more deeply involved with the Marianists. I also provide resources and support to those forming a new community or initiative."
The need for someone in Dillon's position has been apparent to leaders of the MLC-NA for some time as its unique role in the evolving Church becomes more critical. "As an association of the faithful within the Catholic Church, MLC-NA allows lay people to take on leadership roles, find community, and carry forward the mission of the Marianist Founders," said Dillon. "This new position enables the organization to invite more people to discern their role in bringing about the Marian face of the Church."
Dillon's history with the Marianists makes her ideal for the position. After graduating from John Carroll University in 2016, she participated in the inaugural 2016 Marianist PULSE community for two years, volunteering with the Brunner Literacy Center. After her PULSE service ended, she continued her association with the Literacy Center as program coordinator until last year. Dillon is working on a master's degree in English with a concentration on Teaching English for Speakers of Other Languages at University of Dayton.
In her new role, she says, "It's an honor to listen for the Holy Spirit's promptings to discern next steps for MLC-NA and to grow with the Marianist Family."
If you have questions about joining a Marianist Lay Community or getting involved with a Marianist initiative, email Kateri Dillon at [email protected].
Dillon encourages everyone to attend the Marianist Lay Assembly this summer. "It is a wonderful opportunity to see the Marianist Charism at work with lay communities from all over the country," she said. "I am excited to hear speakers and workshop leaders, especially our keynote speaker, Fr. Bryan Massingale."
Grant Stimulates Brain Health Initiative at UD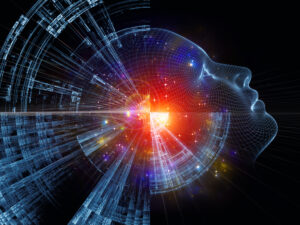 The University of Dayton will receive a three-year, $450,000 grant from The Dayton Foundation to fund education, research, and community outreach to help improve prevention, treatment, and rehabilitation for traumatic brain injuries.
The university's Brain Health Collaboratory will be the lead partner for the grant, which will support community-wide efforts to help individuals and families dealing with neurological issues. The award will fund efforts to increase access to care for individuals and families affected by brain injuries, educate professionals on brain health, conduct research based on community needs, collect data on program outcomes, and increase awareness about brain health.
Click here to read more.
New Video Series on Religious Retirement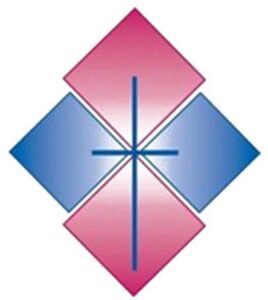 The National Religious Retirement Office in Washington, DC, has unveiled a new video series titled Basic Elements of a Comprehensive Retirement Plan. This free series provides a fresh outlook and renewed focus for religious institutes as they consider retirement planning. The series comprises five brief sessions covering broad topics to help institutes ask the right questions.
The first of these videos is Philosophy of Aging and Eldercare, presented by Bro. Stephen Glodek, SM.
Click here for a complete list of the free video series and additional resources from the United States Conference of Catholic Bishops/National Religious Retirement Office.
Marianist Brother Begins New Chapter in Library Science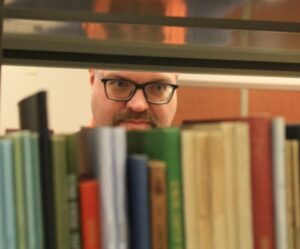 Bro. Andrew Kosmowski, SM, was installed as president of the Catholic Library Association (CLA). He has been an active member of the organization since graduating from the University of Missouri with an MA in Library Science. He has served as vice chair and then chair of the academic library, archives, and library education section, and Bro. Andrew has presented at CLA conferences and participated in cataloging roundtables.
The Province extends its gratitude for Andrew's "yes" in accepting this important leadership role and gives thanks for his continued commitment as the lead librarian at North American Center for Marianist Studies.
Marianist Ministries in Action
FatherSide Chats Aims to Engage Audience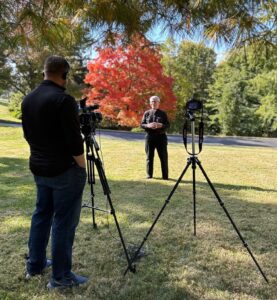 When Fr. Gene Contadino, SM, began working on a video podcast series called "FatherSide Chats" for the Marianist Mission in the fall of 2021, almost everything about it surprised him. "I was especially surprised by the way the producers, Curt Albers and Darren Caywood of Midnet Media, were able to capture me in a relaxed manner as the cameras began to roll."
But that's partly because of the prep time that Fr. Gene and the production crew put into each episode, including ample time to research and prepare interesting topics and scout various locations that convey a relaxed setting. Capturing a typical two-minute podcast on video takes about two-to-three hours of film time. The rest involves editing and polishing the final product. "The skills and artistry of the production team are essential to what we produce. The behind-the-scenes members deserve the spotlight – from the writing, production know-how, and attention to even the smallest details," said Fr. Gene.
The series aims to capture fresh and relevant content for Catholics. "Father Gene and I brainstorm possible topics and look at what is happening in the daily news so that he is talking about issues currently impacting people's lives," said Linda Hayes, director of the Marianist Mission.
"We aim to talk about each topic in an inviting and spacious manner," said Fr. Gene, "one in which the listener might think, 'I never thought of that' or at least continue questioning and noodling with an idea."
To date, the Mission has produced 88 episodes of "FatherSide Chats" and tracks the demographics and interests of its audience. "Ninety percent of our audience is comprised of adults 65+, and of that, 65 percent are women," said Hayes. The series has logged more than 35,000 views across key social media channels.
"Father Gene has done a phenomenal job of hitting on timeless and applicable topics for a long time to come," said Hayes. "We believe that these videos – even if it's just one – will provide support for someone in their time of need."
Episodes with the highest viewing audience include: What is a Prayer Life? (Episode 1), What do Catholics Bring to Death? (Episode 19), and Laughter (Episode 7). Staff favorites include: When it Rains on Your Parade (Episode 30), which reminds the listener that God loves you and will see you through the "rain," and Walk With Changes (Episode 86) about how to adapt to change and how change can challenge an individual on a deeper level.
A Marianist Moment
A "transformative experience" is how Katia Campos described her commitment to a Marianist Lay Community (MLC) in San Antonio, TX. The engineering science major at St. Mary's University (SMU) says it has deepened her understanding of the Marianist Charism. "I have had the opportunity to reflect on and integrate Marianist values into my own life. The formation process has strengthened my relationship with our mother, Mary, and provided me with a solid foundation to continue growing and serving within the Lay Marianist community."
Campos is one of four SMU students who made a commitment to the Sub Tuum Marianist Lay Community last month.
José Chaman has known the Marianists since he was a child. He and his mother both attended the same Marianist high school in Trujillo, Peru. As he pursues a double major in international global studies and economics, he wanted to further immerse himself in the Marianist life. "The blessings I have received through our Virgin Mary and the Marianist Family have been abundant, making it a natural decision for me to join a lay community. During the re-establishment of the MLC program, I truly became captivated. I interpreted this as God urging me to seize the opportunity," said Chaman."
Minister for Marianist Lay Communities and Initiatives Bro. Dan Klco, SM, says, "It helps them to focus their commitment to God, in the Church, through their commitment to the Marianist Charism and Mary's mission to bring people to faith in her Son, Jesus."
Alex Roman, a pre-novice in the aspirancy program, assists Bro. Dan. Alex says he has learned a lot from the students, "No matter our age, our different occupations, the place where we are, or even the culture or language – as Fr. Chaminade once said, 'Our Spirit is the same Spirit of Mary.' We are a family because we were called by Her to be their Children."
Bro. Klco hopes many more are inspired to join, "Joining a Marianist Lay Community is a wonderful way to deepen your relationship with Jesus and Mary through the Marianist Charism."
Labor of Love
The National Archives Marianist Province of the United States discovered 800 slides documenting the building of St. Joseph Chapel at the Marianist Novitiate in Marcy, NY, from 1953 to 1957 — an amazing undertaking by the Marianist Brothers. It was said to be a permanent monument to the Marianists who have labored in the United States since 1849.
The property, six miles from Utica in Marcy, NY (before the building of the chapel), was purchased from the city of Utica for $5,000 on August 13, 1947. It served as the Marianist Novitiate for the Cincinnati Province from 1949-1969 and as the Bergamo East Retreat Center until 1981. It is now an apartment complex on what is still Chaminade Road.
If you'd like to see more images and the history of this building, visit and "like" this Facebook page.
Please join us in prayer for these members of the Marianist Family.
Chaminade University President Spotlight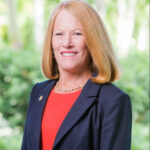 Dr. Lynn Babington, president of Chaminade University of Honolulu since 2017, was interviewed by the Association of Catholic Colleges and Universities (ACCU). She gives in-depth responses to questions such as her understanding between faith and science and how she promotes the Marianist Charism in a typically non-Catholic culture.
Click here to read her responses to those thought-provoking questions.
Thank You, Nurses
Every year from May 6 to May 12, nurses are recognized for their service and dedication to caring for others. During National Nurses Week this year, Bro. Joe Markel and Bro. Bob Metzger, visited the nursing staff at its Cupertino, CA, community.
The celebration, complete with cake and dancing, served as the perfect time to give Genevieve Ibana a special thank you for her 20 years of heartfelt service to the brothers.
Click More Photos
Be sure to click the More Photos box on the top right of the page to see pictures from the District Assembly in India, the Marianist Province Assembly in Tucson with Bishop Gerald Kicanas as the keynote speaker, a celebration of two more Lay Marianist affiliates, and an open house at the new Marianist Community at St. Leonard in Dayton.

Looking for an Internship or a Volunteer Opportunity?
The Mission of Mary Cooperative has several openings for anyone wanting a fulfilling and community-driven internship in the following categories: Farming & Food Distribution, Community Programming, Land Restoration & Stewardship, Non-Profit Administration, and Graphic Design.
Click here for more information on internships.
Click here for information on volunteer opportunities.
Marianist Family Newsletters & Videos
Via Latina from the General Administration of the Society of Mary
Justice Jottings from the Marianist Social Justice Collaborative
AMU Newsletter from the Association of Marianist Universities
District Update #70 from the Marianist District of India

FatherSide Chats is a web video series featuring Fr. Gene Contadino. Discover new episodes every Tuesday about a variety of topics. Click the graphic to view episodes. Click here to read more.
FamilyOnline Submissions
We welcome and encourage submissions of interest to our nearly 3,600 subscribers. Please send them to Theresa Petry.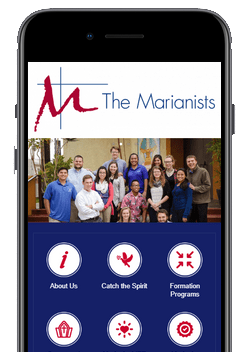 GET CONNECTED!
Stay in touch with the Marianist Province by downloading our new mobile app!

Download your free copy today for easy access to information that supports the work of Marianist-sponsored ministries. Compatible with Apple iOS and Android devices.