Education as a path to hope in Eastern Africa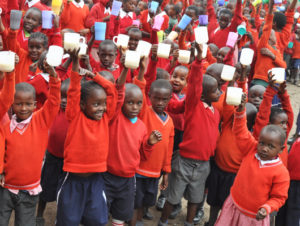 The Marianists first began serving in Eastern Africa in 1957.
In the tradition of our founder, Blessed William Joseph Chaminade, we use education — traditional schools and skills training programs — as the primary means to raise people up and bring them to Christ.
Schools
Our Lady of Nazareth primary school in Nairobi, Kenya,
with an enrollment of over 1,900.
Chaminade Secondary School in Karonga, Malawi, with an enrollment of nearly 400.
Chaminade Marianist Secondary School in Lilongwe, Malawi is a new school and serves about 80 students.
Matero Boys School in Lusaka, Zambia, with an enrollment of about 650.
You can make a big difference in the life of a child by sponsoring the cost of his or her education at Our Lady of Nazareth.
The school relies heavily on the support of our friends to continue its work. For $135 per year — just $11.25 per month — you can provide tuition, books and a daily hot meal for a child. You will receive personalized information about your sponsored child, along with a photo and two letters from him or her each school
year.
Please consider giving the life-changing gift of education to a student at Our Lady of Nazareth.
Skills training programs
In addition to traditional schools, the Marianists sponsor four skills and vocational training programs.
These programs target women and youth ages 16-25, to teach trade skills and business knowledge while offering counseling and spiritual guidance.
We offer a variety of courses and training such as:
Hairdressing and beauty
Catering
Welding and fabrication
Fashion and design
Tailoring and dressmaking
Computer training
Our goal is to assist women and youth to find employment and lead a life of respect, dignity and resourcefulness to themselves and the community where they work and live.
The Marianists' skills training programs include:
Marianist Technical Institute-Mombasa (MTIM), is located in the Bombululu area of Mombasa, Kenya. MTIM trains approximately 170 students per year and it costs $1,140 to train a student per year.
 IMANI (Incentive from the Marianists to Assist the Needy to be Independent), in Nairobi, Kenya, serves about 350 women and young people per year. The skills training center is comprised of Maria House, Chaminade training center and Job creation program. Courses range from $150 – $500 per student.
 UJAMAA Family Center, in Nairobi, Kenya, is located between Our Lady of Nazareth Primary School and IMANI Skills Training Center. The center began as an educational center for parents of OLN students, but now has an outer reach to the community. Inspired by the Marianist family spirit, UJAMAA works to strengthen slum families by attending to the needs of parents to help their children in their development. Courses include English and Kiswahili, nutrition and hygiene, computer training, basic business knowledge and budgeting, personal and group counseling for drug/alcohol abuse and domestic violence and attention to the business and financial needs of families.
 MIRACLE (Marianist Institute of Rural Artisans for Christian Life Education) Skills Training Center, in Karonga, Malawi, offers training to orphans from all over the country who have been left behind by parents who have died of HIV/AIDS. All courses at MIRACLE are trained at grade II level for two years followed by a six-month internship prior to graduation. Upon graduation, graduates take home their tool kits and are offered small financial support to help them start their own businesses. Over 100 trainees graduate every year.
Your gift to the Marianists' Partnering with the Poor initiatives in Eastern Africa makes it possible for us to give women, children and youth hope for a brighter future.