Education as a path to hope in Eastern Africa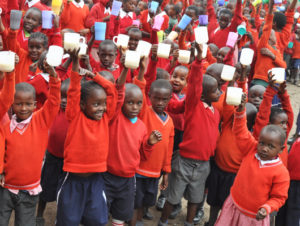 The Marianists first began serving in Eastern Africa in 1957.
In the tradition of our founder, Blessed William Joseph Chaminade, we use education — traditional schools and skills training programs — as the primary means to raise people up and bring them to Christ.
Schools
Our Lady of Nazareth primary school in Nairobi, Kenya,
with an enrollment of 1,900.
Matero Boys School in Lusaka, Zambia, with an enrollment
of about 650.
Chaminade Secondary School in Karonga, Malawi, with an
enrollment of nearly 400.
You can make a big difference in the life of a child by sponsoring the cost of his or her education at Our Lady of Nazareth.
The school relies heavily on the support of our friends to continue its work. For $135 per year — just $11.25 per month — you can provide tuition, books and a daily hot meal for a child. You will receive personalized information about your sponsored child, along with a photo and two letters from him or her each school
year.
Please consider giving the life-changing gift of education to a student at Our Lady of Nazareth.
Skills training programs
In addition to traditional schools, the Marianists sponsor three skills training programs.
These programs help youth who would otherwise be jobless learn vocations such as carpentry, tailoring and food preparation.
The Marianists' skills training programs include:
IMANI, in Nairobi, Kenya, which serves more than 300 young people each year.
MIRACLE, in Karonga, Malawi, serving more than 100 youth each year.
Marianist Development Project, in Mombasa, Kenya, serving about 130 each year.
Your gift to the Marianists' Partnering with the Poor initiatives in Eastern Africa makes it possible for us to give children and young people hope for a brighter future.