Marianist PULSE
Partners in Urban Leadership, Service and Education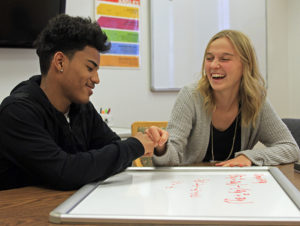 PULSE is a post-graduate, servant leadership and social justice initiative sponsored by the Marianists. It is a means of sharing the Marianist charism through energetic women and men who want to make a positive impact on an urban community.
PULSE volunteers make a one- or two-year commitment to live with fellow volunteers in a lower-income neighborhood of Dayton, Ohio. They work full-time at local nonprofit agencies, gaining valuable leadership and career skills.
The life of a PULSE volunteer includes:
Gathering for meals and prayer in the house community.
Living simply in solidarity with the poor and marginalized.
Engaging in a weekly Marianist formation program.
Journeying alongside a spiritual mentor.
Experiencing the passion and satisfaction of working for social justice.
PULSE was launched in 2015; the first cadre of volunteers began service in mid-2016. For 2017-2018, PULSE expanded to include two community houses.
The group operates under the direction of Maureen O'Rourke, PULSE coordinator.
More information:
Connect with Marianist PULSE