Hope for those at the bottom of society
You should know this about India:
About one-third of the population — 410 million, more than the entire U.S. population — lives on less than $1.50 per day.
30% of rural residents are illiterate; about 50% of all Indian women are illiterate.
Rural residents leave their homes in hopes of finding a livelihood in a big city. Instead – because they have no education and skills – they find only greater desperation, including homelessness, hunger and prostitution.
The problems faced by India's poor are immense. However, each year, through Marianist schools and REDS programs, we partner with the poor by working with thousands of people to give them a chance at a better life.
Schools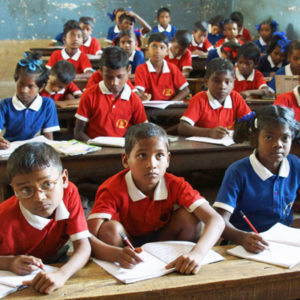 The Marianists operate seven schools:
Chaminade School in Bangalore caters to children from the poor and middle-class slums and neighboring communities.
St. Joseph Chaminade Academy in Bangalore serves a growing enrollment of about 200 in preschool and primary grades.
Budakata Mission Primary/Upper Primary School in Budakata serves local tribal children in grades 1 to 10. It has an enrollment of 320.
St. Joseph's School in Budakata, is a new school serving about 250 children.
Jacob Gapp School located in a remote area in Khammam, it serves children in grades K to 10 and has an enrollment of 300.
St. Mary's English Medium School in Ranchi, serves about 100 local tribal children in grades 1 to 3.
Morning Star School in Singhpur, serves children in kindergarten through high school, with an enrollment of 1,380.
You can make a big difference in the life of a child by sponsoring them to receive a quality education at Jacob Gapp School or Morning Star School.
The schools rely heavily on the support of our friends to continue their work. For $135 per year — just $11.25 per month — you can provide tuition, books and a uniform for one child.
You will receive personalized information about your sponsored child, along with a photo and two letters during the school year.
Marianist REDS Programs
In India, slum-dwellers are sometimes known as "ragpickers." These children of God, some as young as six, often live, eat and sleep on the streets. They scavenge through waste dumps to collect recyclables to sell for pennies. Typically, their lot is hunger, sickness, illiteracy, physical abuse and premature death.
REDS (Ragpickers Education and Development Scheme) is a collection of Marianist intervention programs that serve these "ragpickers" living in the slums of Bangalore and Ranchi.
REDS Centers and Play Schools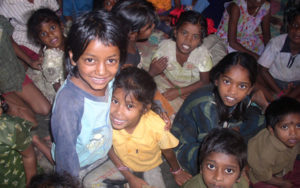 The Marianists gather street children — from preschoolers to young teens — at REDS centers, where they receive food and healthcare. They learn to read and write, and to do basic math.
We place as many as possible as full-time students in formal schools; older children may be placed in job training programs.
The Marianists operate 36 REDS Centers and place more than 1,000 children in school or skills training each year.
Skills Training Centers
The REDS Skills Training Centers are two-year boarding programs for youth who would otherwise be unemployable. The centers provide training in carpentry, construction, welding, electronics, plumbing, refrigeration and tailoring. In addition to vocational training, these young people are taught how to function in working society — another type of education not available to them in their lives in the slums.
Marianist Skills Training Centers provide the ticket to a stable life: a roof overhead, enough food to survive and basic human dignity.
Women's Empowerment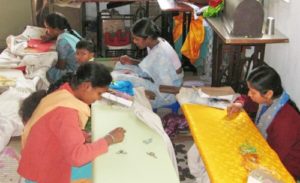 REDS Women's Empowerment programs provide impoverished women with vocational training, financial literacy, child development education and basic health care.
These programs enable women to bolster their family income by providing job training such as embroidery, stitching and operating sewing machines. Many have gone from doing piecework to starting their own small tailoring businesses.
Marianist REDS Women's Empowerment programs assist more than 1,100 women each year.
Please consider joining with the Marianists to improve the lives of children, women and families in India.