Easy ways to catch the Marianist Family Spirit!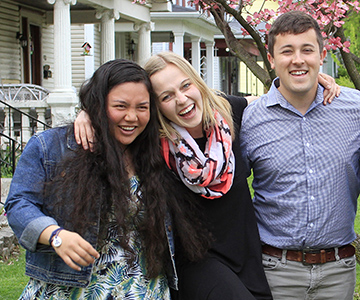 Grab a glimpse
Check out this infographic for a quick snapshot of the who, what, when and where of the Marianist Family.
Pray
Join us in the traditional "Three O'clock Prayer," which is prayed daily at Marianist ministries around the world. It is a way for us to "gather in spirit at the foot of the cross."
Read all about us
Check out our monthly newsletter FamilyOnline for the latest news and resources. For more in-depth stories, read ALIVE, the Marianist magazine. Subscribe for free!
Meet your partners
The Marianists sponsor a host of vital ministries, including high schools, universities and retreat centers. Be sure to learn about partner ministries in the Marianist Family.
Dive deeper
The North American Center for Marianist Studies (NACMS) provides publications and programs offering an in-depth understanding of Marianist history, teachings and spirituality.
Discover your vocation
Is God calling you? Learn what it means to become a Marianist brother or priest, a Marianist Sister, or a Lay Marianist.