What is a brother?
In today's world, a religious vocation is an unusual path. Check out this video to learn some basics.
Are you called to become a Marianist?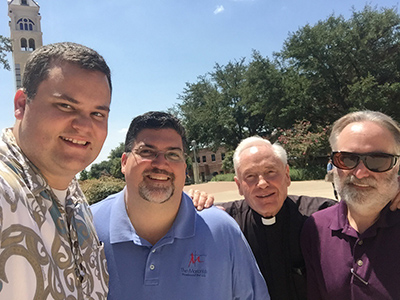 This is a great question to be asking yourself. The Marianists – members of the Society of Mary – are a joyful, prayerful community of men. We represent a wide range of ages and cultural backgrounds. We share a devotion to the Blessed Mother and a commitment to service.
The Marianists are:
Men of faith: We are moved by the Holy Spirit to follow Jesus.
Dedicated to Mary: She is our model of discipleship. We are inspired by her example to bring Christ to the world.
Men of community: We believe that living simply, praying daily and supporting each other as a community enriches our faith and strengthens our ability to grow and meet challenges.
A discipleship of equals: Brothers and priests serve side by side and serve each other. Priesthood is seen as a ministry, not a step up the ladder.
Leaders in mission: Our mission is to bring Christ to the world and to work for the coming of his kingdom.
Are you called to become a Marianist? We look forward to helping you find out.
Please contact:
Bro. Mark Motz, SM, vocation director
By email or at 314.250.4505