The Marianist Province of the United States
announces with joy
the first profession of religious vows
in the Society of Mary
of
Magdaleno Alonso Ceballos Marcel
During the Vigil Mass of the Ascension of the Lord
Saturday, the twenty-third of May
two thousand twenty
seven o'clock in the evening
Eastern Time
Marianist Novitiate Community
Mount Saint John
Dayton, Ohio

Magdaleno (Leno) Alonso Ceballos Marcel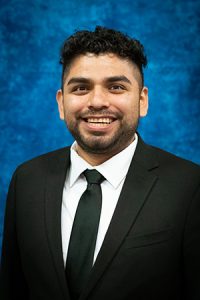 Leno, 31, is from Vista, California. He is the son of Reyna Maria Isabel Marcel Gonzalez and Alonso Ceballos Lopez. Leno is the oldest of seven. His brothers are Franky, Alonso, Jael, Izar, Einar and Ruben.
Leno met the Marianists at the Los Angeles Religious Education Congress in 2012. Following the congress, he began discerning his vocation with Bro. James Wisecaver, SM. He made his aspirancy at Casa Maria Community, San Antonio and his novitiate at the Marianist Novitiate at Mount Saint John, Dayton, Ohio.
Leno was attracted to the Marianist life of prayer, devotion to Mary, life in community and their collaborative mission with the other branches of the Marianist family. The Marianist model reminded him of the parish life he grew up in, St Francis of Assisi in Vista, California.
In his spare time, Leno enjoys studying languages, making origami art sculptures, reading, playing guitar and ukulele, playing soccer, running and watching sports.
---
Español
Leno, 31, es de Vista, California. Hijo de Reyna Maria Isabel Marcel Gonzalez y Alonso Ceballos Lopez. Leno es el mayor de siete hermanos. Sus hermanos son Franky, Alonso Jael, Izar, Einar y Ruben.
Leno conoció a la Compañia de Maria (Marianistas) en el Congreso de Educación Religiosa en Los Angeles California en el 2012. Siguiendo el congreso, el empezó a discernir su vocación con dirección del hermano Jaime Wisecaver, SM. Leno hizo su aspirantado en Casa Maria en San Antonio, Texas y su noviciado en el Noviciado Marianista en Monte de San Juan en Dayton, Ohio.
Leno fue atraído a los Marianistas por su vida de oración, la devoción a María, vida en comunidad y su misión colaborativa con las otras ramas de la familia Marianista. El modelo Marianista le recordó a la vida parroquial con la que él creció, San Francisco de Assisi en Vista, California
En su tiempo libre, a Leno le gusta estudiar lenguajes, hacer esculturas origami, leer, tocar guitarra y ukulele, jugar fútbol, correr y ver deportes.