Bro. Allen Pacquing Professes Perpetual Vows in the Society of Mary
Bro. Allen Agpaoa Pacquing professed perpetual vows in the Society of Mary (Marianists) on Oct. 3, 2020, at Guadalupe Chapel on the campus of St. Mary's University in San Antonio, Texas. Fr. Oscar Vasquez, provincial of the Marianist Province of the United States, presided at the Eucharist and received the vows. Fr. Tim Kenney, assistant for religious life, concelebrated and presented Bro. Allen for the Rite of Religious Profession.
Due to precautions taken in light of the coronavirus pandemic, physical attendance of the celebration was limited to 45 friends and members of the Marianist community donning masks and socially distanced. However, the vow ceremony was livestreamed so that Marianist family members and friends from throughout the world were able to virtually witness the celebration.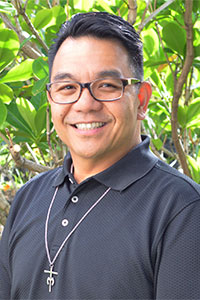 Bro. Allen Pacquing, 50, was born to a religious, Filipino-American family and raised in Honolulu, Hawaii. He earned an MA in Pastoral Ministry from Santa Clara University in California, in 2003. In 2013, Allen asked himself, "Who would have guessed that I would enter the novitiate at this stage in my life? Certainly not me, but God had other plans. I just needed to listen and to be open to His call."
After professing his first vows in Dayton, Ohio on May 23, 2015, Bro. Allen was assigned to Chaminade University of Honolulu as the Minister for Liturgy and Worship. He then transitioned to be the Coordinator of the Tutoring Center and Testing Services. In 2017, Bro Allen was promoted to Director of Campus Ministry.
With Bro. Allen's expertise in student life and pastoral care, he was asked to be the Chaplain for Student Development at St. Mary's University, San Antonio, Texas in 2019.  Living at the Holy Rosary Marianist Community, Bro. Allen continues to learn the culture and history of San Antonio and how our Marianist influence shaped the local community. With his knowledge and willingness to serve in the Division of Student Development, he accepted the position as the associate director of Community Engagement, Marianist Student Initiatives at St. Mary's University.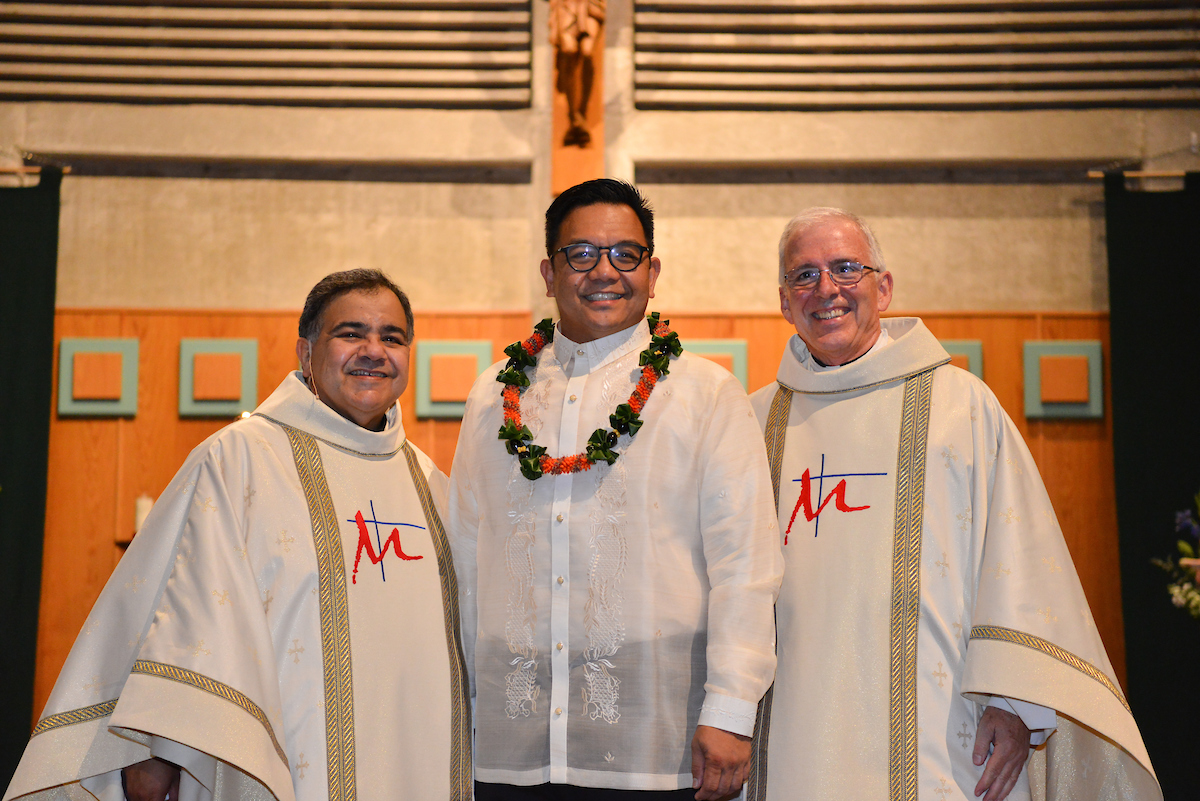 Bro. Allen's Ring
Upon perpetual vows, all brothers receive a gold ring of their design. Bro. Allen's vow ring includes the words from the ritual during the blessing of the ring and the Marianist cross "Per Matrem ad Filium, Through the Mother to the Son, as my daily reminder of my commitment and connection to Mother Mary- always leading to Jesus."
Read the History of the Gold Ring.
Thank you for remembering Brother Allen A. Pacquing, S.M. in your prayers.