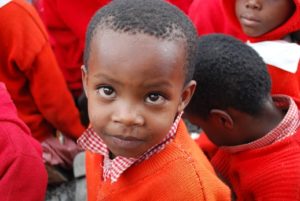 Our Lady of Nazareth school is located in the middle of Nairobi's largest and worst slum, Mukuru, where 350,000 people struggle to survive.
In Swahili, mukuru means "garbage dump." The roads there are unpaved and pungent smells of excrement and wood fires fill the air. Ramshackle houses of tin, plastic and wood have dirt floors, no running water, no sanitation, and no electricity. Hunger, disease and abuse are common.
For the 1,800 children enrolled at Our Lady of Nazareth school, education offers an opportunity to escape this desperate situation. OLN is the only means of breaking the cycle of poverty in which they were born.
How You Can Help:
$135 a year pays a year's tuition and one hot meal per day
$600 per year sends a deserving OLN graduate to high school
Any donation helps the children at OLN right now
The Marianists rely almost exclusively on donations to keep OLN's doors open. If you choose to sponsor a child, you will receive a photo and two letters from the child during the year.
For more information, please contact:
Bro. Alex Tuss
Marianist Mission
P.O. Box 340998
Dayton, Ohio 45434-0098
937.222.4641 or 800.348.4732
alex.tuss@marianistmission.org