SOCIETY OF MARY CELEBRATES TWO ORDINATIONS
On Aug. 22, the Feast of the Queenship of Mary, the Marianist Province of the United States celebrated the ordinations of Fr. Michael Chiuri, S.M., and Fr. Brandon Paluch, S.M., during a Mass at Our Lady of the Pillar Parish in St. Louis.
Most Reverend Kevin W. Vann, bishop of the Diocese of Orange, California, presided at the Mass and gave the homily. Fr. Oscar Vasquez, Provincial of the Marianist Province of the United States, and Fr. Timothy Kenney, served as the principal concelebrants.
Due to precautions taken in light of the coronavirus pandemic, physical attendance of the celebration was limited to 75 family members, friends and members of the Marianist community donning masks and socially distanced. However, the Ordination was livestreamed so that more than a thousand Marianist family members and friends from throughout the world were able to virtually witness the celebration.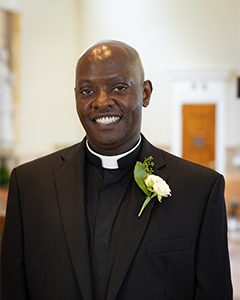 Fr. Mike Chiuri, 42, was born and raised in Nairobi, Kenya, where he earned his bachelor's degree in commerce and business administration at the Catholic University of Eastern Africa in 1997 and worked as a consultant for the African Economic Research Consortium.  Read more.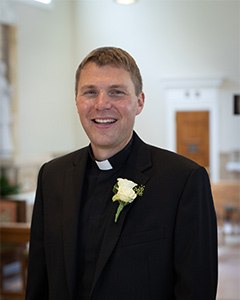 Fr. Brandon Paluch, 37, was born in Green Bay, Wis., and raised in suburban Chicago. After earning his bachelor's degree in religious studies and history at the University of Dayton in 2006, he served in Loyola Marymount University's PLACE Corps through which he earned a master's degree in education. Read more.