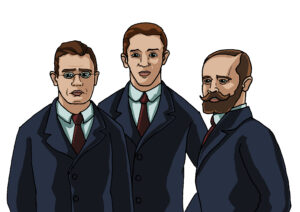 The Marianist Martyrs of Ciudad Real (d. 1936) pictured above from left to right are the Blesseds Br. Jesús Hita, Br. Carlos Erana, and Br. Fidel Fuidio. While Spain served as a country of refuge for their spiritual forefather Blessed William Joseph Chaminade, by the 20th century several of her cities, including Madrid and Ciudad Real, experienced the scourge known as the "Red Terror" during the Spanish Civil War (1936-1939). This consisted of communist "militiamen" violently eradicating Catholicism in the cities they controlled by torching her churches and executing her leaders, religious or lay. The persecution became so severe that even possession of a rosary warranted the death penalty! In the face of such grave danger, these three vowed religious made the commitment to stay in war-torn Ciudad Real. The three initially met one another in Ciudad Real during the summer of 1936 but ended up suffering separate martyrdoms later in that year.
Blessed Jesús Hita (1900-1936) taught in Madrid during the regular school year but was sent by his community in 1936 to teach that summer in Ciudad Real. When his term began, the "Red Terror" tore through Ciudad Real forcing Hita to leave the school and take refuge in a boarding home within the city on July 23 alongside four other religious exiles. It was said during this time in hiding that Hita had a deep sense of his impending martyrdom, "Blessed Jesús put aside his mattress and slept on the springs of the bed. He was often seen praying at night with his arms extended…Blessed Jesús confessed to Fr. Pedro [one of the other religious exiles] twice a week and received his blessing each night before retiring." On September 25, their hiding place was raided by communist militiamen who, after capturing all five religious drove them to another location where they were presumably to be killed.
Blessed Carlos Erana (1884-1936) like Blessed Jesús Hita also traveled from Madrid to Ciudad Real in 1936. The school in Madrid where he once taught had been overtaken in the "Red Terror" so he traveled to Ciudad Real seeking a safe haven amongst former pupils of his who held teaching posts there. To his dismay, both of the schools in Ciudad Real in which Erana sought refuge had been requisitioned by the communist militiamen and those communities subsequently scattered. So Erana resolved to seek out those dispersed Marianists to offer them his support – without even concealing his religious status! This led to his arrest by the "popular army" on September 6th and eventual execution alongside seven laymen on September 18th.
Blessed Fidel Fuidio (1880-1936) was perhaps the most erudite of the three. He held a doctorate in history and his scientific publications drew the praise of Archeologists and Museologists throughout Spain. It was written of him, "The students held him in much esteem for his unalterable kindness; he never saw malice in them; he supported their defects with complete affection and love." On August 7, communist militiamen identified him as a religious leader when they saw him wearing a crucifix. He was imprisoned for two months with other religious prisoners; it was common knowledge that Fuidio was a source of strength and encouragement for his fellow captives awaiting execution. On October 17th, Fuidio earned the martyr's crown when his captors brought him out of the former seminary turned makeshift prison and shot him.
These men were not armed combatants nor were they involved in politics – they simply demonstrated fidelity to their educational craft and their religious life. On October 1, 1995, they were beatified by Pope John Paul II. These men are honored by the Society of Mary on September 18th of the Church calendar.