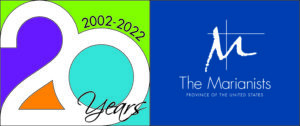 Lights, Camera, Action at St. Mary's University
Amazon Prime Debut August 31
When the Admission and Communications departments at St. Mary's University heard about The College Tour, an Amazon Prime series that spotlights colleges and universities around the country through the words of students, they spun into action and contacted the show's producers.
"We were thrilled when the Emmy-nominated and multi-award-winning producers agreed to feature St. Mary's," said Gina Farrell, associate executive director for University Communications.
Created and hosted by Alex Boylan, the show is designed to give potential students more insight into different campuses and universities around the country without the costly expenditures of traveling to each campus. "It's expensive to go look at schools," said Boylan, whose television career soared after winning season two of The Amazing Race. "The average cost for a family to go outside their general vicinity to look at colleges is about $2,500."
In February, the production crew arrived at St. Mary's to begin filming the
episode. But that put St. Mary's staff in a bind. To meet the production deadlines, the University had to do the casting call between the Fall and Spring semesters when no students were on campus.
"We were thrilled when 37 students submitted outstanding video auditions," said Gina. "We ended up with nine students in the final project. They were all amazing!"
While the students each highlighted personal experiences, viewers will notice the common threads of community and Marianist charism rooted in every story.
The St. Mary's episode premieres on August 31 on Amazon Prime. The school is planning a campus watch party. "I'm glad many of them will be back on campus and able to join us," said Gina.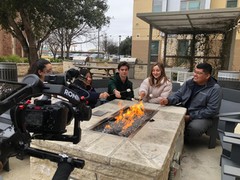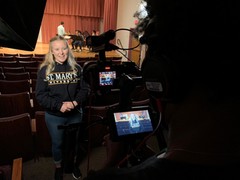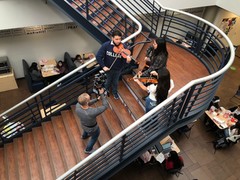 First Spanish-Speaking Marianist Lay Community in the U.S.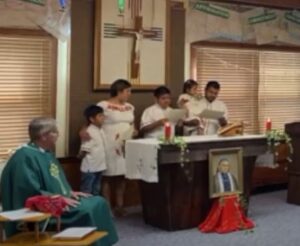 Four Spanish-speaking families made their consecration to Mary on July 24, 2022, at the Cape May Marianist Family Retreat Center (MFRC).
Fr. Dave MacGuigan, Bro. Stan Zubek and Bro. Esteban Reyes, accompanied these families since the beginning of the year, giving the basic formation of a Marianist lay community. Anthony Fucci, Jessica Sherwen and the entire MFRC team provided support with the hospitality of these families and Bro. Edward Longbottom was part of the lay formation team.
Thanks to brothers in Mexico who sent formation books and to the Provincial Office of Religious Life that supplied medals given to the families at the time of their consecration.
The Hispanic families are from Bridgeton, a small town about an hour northwest of Cape May, New Jersey. There are 13 members in this new Marianist lay community, including the children.
Click here to see video of the consecration.
Launch of National Charter for Regional Councils
After four years of collaboration between the Marianist Family Council of North America (MFC-NA), and members of the Regional Marianist Family Councils (RMFC) in North America, with the help of Bro. Jack Ventura, elements for a National Charter of RMFC have come together.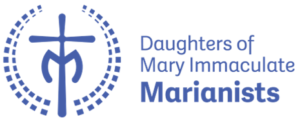 Approval was given to the second draft of the Charter and distributed to all RMFCs for implementation in ad experimentum for two years.
Click here to view the Charter that was distributed this month.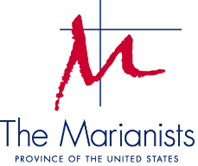 We are also excited to announce plans for a gathering of the Marianist Family in North America. One of the agenda items for the Assembly will be a particular focus on the Charter, with the intent to close the ad experimentum phase and have the Charter finalized.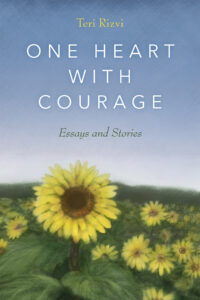 Awarded Top Read of 2022 by CMA
The Catholic Media Association (CMA) named One Heart with Courage: Essays and Stories as a top read of 2022.  The collection of inspirational nonfiction stories was written by Teri Rizvi, the Executive Director of Strategic Communications for University of Dayton. Rizvi writes about her marriage, which spans two religions and two cultures in a world that's too often divided.  She says, "The book has a distinct Marianist flavor, with essays about the men of 1903 Trinity (a Marianist student house on campus)…"
One Heart with Courage: Essays and Stories, is available in paperback, on Kindle and soon as an audiobook narrated by Sheri Saginor.
Marianist Ministries in Action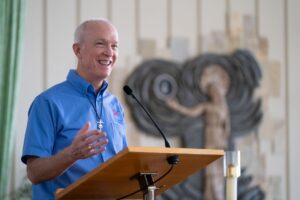 Marianist Charism Comes Alive
Bro. Ed Brink has spent years thinking about what makes a Marianist education distinctive and how the gifts of the Charism can play a lifelong role in one's spiritual growth.
That's why his job as Vice President for Mission and Rector at Chaminade University of Honolulu is so gratifying.
"A large portion of my job is formation," he said. "It is rewarding when I see people get hooked by the Marianist Charism and are eager to learn more about it. Figuring out how to provide them with information and experiences –  the things that help them grow spiritually – is best done with others in community."
That community includes approximately 2,167 students who come from a culturally rich mix of Asian, Native Hawaiian/Pacific Islander, White, Hispanic and Multi-ethnic backgrounds. It also includes roughly 200 faculty and staff.
The school boasts a student/faculty ratio of 11:1 – meaning that the learning environment is personable and family-like. It is an ideal setting to encourage community building, hospitality and Family Spirit – characteristics that define the Marianist Charism.
Bro. Ed believes that being educated in the Marianist tradition should not be taken for granted. He has a challenge for all graduates:
"Whatever drew you to the University or whatever you like about the experience of being here, points to a responsibility to keep those aspects alive and pertinent," he said. "I hope those experiences lead you to make a difference in the lives of others and make the world a more just and peaceful place."
General Colin Powell Learns From a Marianist
"Egad," exclaimed General Colin Powell upon learning there was an error in his book, "My American Journey."
In typically Marianist teaching fashion, Fr. Raymond Malley (1940-2021) wrote the author to first compliment his work as well as point out a historical misstep noted on page 274 of the book.
Fr. Raymond, having familial knowledge of that which General Powell wrote, explained in his letter the details of the inaccuracy. He said, "I hate to bust an army legend, but it's somebody else's ghost!"
Click here to find out what blunder was made by the General.
Please join us in prayer for these members of the Marianist Family.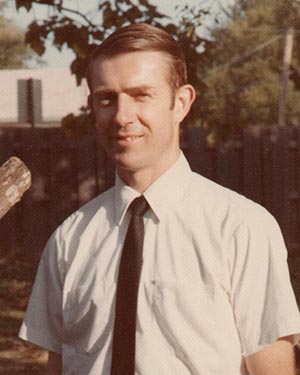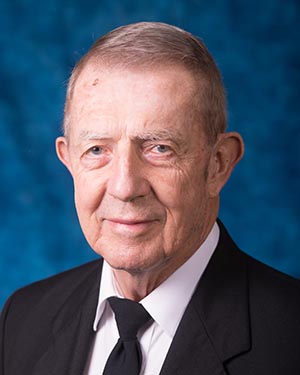 Bro. Robert Hanss, 88, died on July 10,  2022, with 66 years of religious profession. Brother Robert "Bob" was a beloved teacher, professor, geologist, missionary, novice master and community director. While devoting much of his life to the classroom, he felt particularly blessed by the years he spent in parish ministry – work that brought him in close touch with the poor and gave him a new "way to know Jesus."
Marianists Celebrate Jubilees
Each year, the Society of Mary recognizes brothers and priests who are marking milestones of their first profession of vows or their priestly ordinations. We continue to highlight our 2022 Jubilarians in a special section of FamilyOnline.
BROTHER ROBERT MARUYAMA
60 years of profession
I think I was about ten when I received my Baptism from a Maryknoll missionary in Manchuria, soon after the end of WWII. For all practical purposes, it was an infant Baptism for me, because I hardly knew what it was all about. I was just following my mother's lead. But circumstances allowed me to meet the Marianists when I entered a high school in Yokohama, Japan, conducted by an international group of the Society of Mary.
FATHER THOMAS FRENCH
25 years of ordination
Thomas Joseph French was ordained to the priesthood on June 27, 1997, at Bon Secours Spiritual Center in Marriottsville, Maryland.
His discernment began as a student at Cardinal Gibbons High School in Baltimore, Maryland, where he was taught by the Marianist brothers and priests.
Gathering in the Spirit
You're invited to a monthly faith-sharing experience that sparks conversation and connection across the Marianist Family.
This collaborative initiative was created by the Embers Marianist Lay Community and MLC-NA to build community and grow deeper in the Marianist Charism through shared reflection and prayer.
Reflections take place on the first Wednesday of the month in 2022 via Zoom, and while no RSVP is needed, you are asked to join five minutes prior to the start of 8 pm ET.
• Zoom Link to Join
• Meeting ID: 835 9212 6586
• Passcode: Marianist
Now Accepting Seed Grant Applications
Do you have a project that needs additional funds? The Visitation Marianist State Community is a virtual community of vowed lay Marianists with a long history of serving the Marianist family. It is committed to putting financial resources toward projects which may need assistance to get started or expand into a new area. The foundation is particularly committed to enabling small communities and fledgling service projects to thrive. The four project categories are:
Strengthen Marianist Lay Communities and Network
Assist in building the Catholic church
Impact the faith and involvement of young adults in the church
Social justice areas: Economic Justice, Environmental Justice and Human Rights
Awards are granted each year to groups or ministries within the United States. The proposed projects are submitted for consideration via an application form. Applications are due by the end of August. Click here to see the projects that were awarded in 2021.
FamilyOnline Submissions
We welcome and encourage submissions of interest to our nearly 3,400 subscribers. Please send them to Theresa Petry.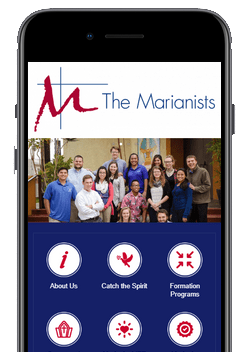 GET CONNECTED!
Stay in touch with the Marianist Province by downloading our new mobile app!

Download your free copy today for easy access to information that supports the work of Marianist-sponsored ministries. Compatible with Apple iOS and Android devices.