For Brother Al Kuntemeier, a Dream Comes True

Last year, Bro. Al Kuntemeier had his dream of a lifetime come true. With a little help from his Marianist friends – Fr. Thomas Cardone from the Meribah Province in New York and Bro. Michael McAward in Rome – he boarded a plane in San Antonio in late November for a trip to the Eternal City.
Earlier that year, they had helped him deliver a missive to the Pope with a simple request to meet the pontiff. He got the idea after viewing a film about the Pope and decided he'd like to meet him in person.
On Nov. 30, Bro. Al, along with Fr. David Fleming and about 25 other people, attended an early morning Mass with Pope Francis at St. Martha's Chapel inside the Vatican.
It was "a once-in a lifetime experience," said Bro. Al. "My heart was really pumping. All I could say was, "Wow! Wow! Wow! Thank you God … and thank you, Pope Francis!"
It may have helped that last year Bro. Al celebrated his jubilee year – 70 years since professing his first vows. The Pope often displays "a desire to affirm religious in their life and ministry," said Fr. Dave. See more photos.
Fr. Suman Dungdung is Ordained
On Jan. 28, Fr. Suman Dungdung was ordained as a Marianist priest in the District of India.  The ordaining prelate was Most Rev. Bishop Felix Toppo. Fr. Suman was ordained at Blessed Chaminade parish in Singhpur. About 1,800 family members, Marianists and parishioners attended. His pastoral year will be at Blessed Chaminade parish. Congratulations to Fr. Suman! See more photos.
Marianist Moment: Vision and Leadership Styles of Marianist "saints"
Marianist Moment is written by Bro. David Betz
What traits or characteristics do you think of when someone mentions the Marianist "saints?" Is it their holiness or their willingness to engage with men and women for the sake of a mission?  Is it their perseverance in spite of the difficulties they endured during and after the French Revolution or during the Spanish Civil War or during the Nazi Era? Whatever comes to your mind, no doubt you probably are amazed because of their efforts to bring God's reign to those with whom they associated.
I invite you to read an article by Alison R. Cawley who reflects upon the vision and leadership styles of Blessed Mother Adèle and Venerable Marie Thérèse de Lamourous and how they can inspire the Marianist Family today. Two of our "saints" who contributed greatly to the building up of God's Reign and of course the Family of Mary.
Read her paper, "Vision and Leadership Styles of Marie Thérèse de Lamourous and Adèle de Batz de Trenquelléon | NACMS."
Look for a special invitation in the next issue of FamilyOnline to contribute your stories and experiences about praying to our Marianist "saints."
Marianists of Hope and Joy: Reimagining the Dream
Bro. David Betz lives in the West Hills Marianist Community in California and serves as a spiritual mentor to Marianist Affiliates in formation.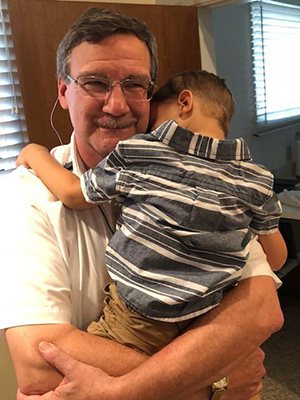 From your ministry with Marianist Affiliates, what gives you hope?
I find hope in people's desire to deepen their relationships with God by following a charism that calls us to bear Christ in our everyday lives. We are challenged to bring hope, peace and justice to our world in a Marian way. We are called to live with the unexpectedness of our world and to respond as Mary did — to ponder, welcome, question and act — and to invite others to act.
What brings you joy?
I enjoy interacting with Marianist Affiliates. Our conversations are engaging and lively. They are "serious, but not somber," meaning that humor plays an important part. I also delight in my work because adult faith formation is where I see my skills and gifts being utilized in a profound way — assisting young adults and adults to deepen their faith lives.
I find joy in witnessing Affiliates make their commitments. They say "yes" before a worshiping community who, in turn, supports them in their commitment. I also find joy in sharing special occasions with Affiliates, such as the baptism of an Affiliate's daughter where I was able to watch the older brother during the service.
Marianist Family Members in the News
Chaminade-Madonna Honors Toni Mesina with Founders' Award
On Jan. 26, Chaminade-Madonna College Preparatory in Hollywood, Florida, honored Toni Mesina, national coordinator for Marianist LIFE, with The Founders' Award. This annual award  recognizes a lifetime of achievement, the benefits that result from the honorees' unselfish commitment to others and their genuine commitment to the school's motto, "Toward a Better World."
While not formally educated at a Marianist institution, Toni was introduced to the Marianist Charism through the LIFE program as a student in 1991 and has been working with the Marianists ever since.  Read Toni's award bio.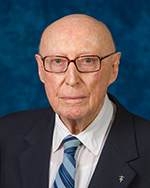 $1 million gift to St. Mary's in honor of Bro. William Chewning
A $1 million gift to St. Mary's University from the Charles E. Chewning Irrevocable Trust will aid in the creation of a new School of Science, Engineering and Technology building.
The gift from the late Charles E. Chewning of St. Louis recognizes his brother, the late Brother William "Bill" Chewning, SM, who taught Chemistry at St. Mary's for decades. Read the article.
Marianist Ministries in Action
Celebrating Chaminade through Marianist Heritage Events
Marianist schools and ministries across the country marked Marianist Heritage Week with Masses and special celebrations. The annual event commemorating the death of Marianist founder Blessed William Joseph Chaminade on Jan. 22 often includes special recognition for those who continue Chaminade's mission. See more photos.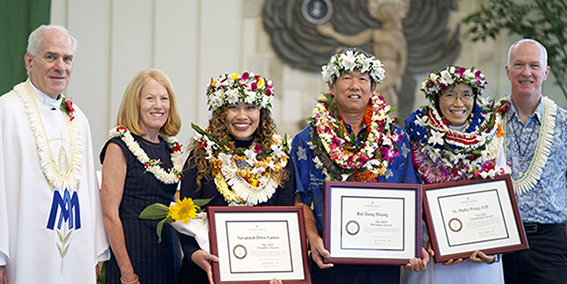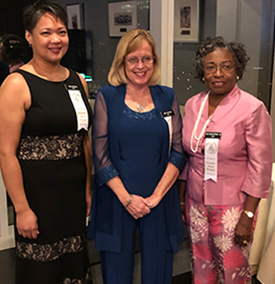 Marianists Welcome New Affiliates in California
In February, the Marianist Family welcomed three new Marianist Affiliates in California. On Feb. 10, Ottilie Valverde, longtime math teacher at Archbishop Riordan High School, made her affiliation commitment  at the Cupertino Marianist Community's Marianist Martyrs Chapel. Ottilie felt called to become an Affiliate due to her love for the Marianist spirit which she learned from her association with the Marianist who taught at Archbishop Riordan High School.
On Feb. 15, Jennifer Somdal Porter, religion teacher at Chaminade College Preparatory in West Hills, California, and Virginia Sendino-Suppan, teacher, writer and wife of Michael Suppan (Chaminade religion teacher) made their commitments as Marianist Affiliates at St. Maximilian Kolbe Church. They were both drawn to the Marianist spirit because they want to follow Mary's mission of bringing Jesus into the world.
Marianist Affiliation is a unique expression of commitment to the Marianist Family and the Church. Spiritual affiliation is a special vocation in the Church and the Marianist Family of following Mary's example — her trust in God's promises, her openness to God's action in her life and her faithful response to God's call.
Please join us in prayer for these members of the Marianist Family.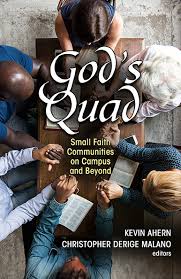 God's Quad
Some years ago, Ian Fraser (Iona Community, Scotland) suggested that the explosion of Small Christian Communities (SCCs) in general is the result of "the spontaneous combustion of the Holy Spirit all over the globe." In recent years, SCCs have also appeared increasingly on both private and public college/university campuses all around the world. The recent publication, God's Quad: Small Faith Communities on Campus and Beyond (Orbis Books) tells the story of this fruitful development in reaching out to young adults. In this collection of reflections and resources, Bro. Bob Moriarty's contribution, "The Sunday Gospel – Center Point for the Campus Small Christian Community," offers an orientation to the communal Lectio Divina model promoted for many years in Quest, the lectionary-based resource for small Christian communities.
Radical Hospitality Retreat
Registration is now open for the upcoming retreat entitled "Radical Hospitality: Deepening our Commitment to Social Justice," sponsored by the Adele Social Justice Project and the Visitation Marianist State Community.
WHEN: April 12-14, 2019
WHERE: Indianapolis, IN
FACILITATORS: AJ Wagner and Joan McGuinness Wagner
This retreat will offer opportunities to reflect on how we live out radical hospitality in our work for justice, mainly drawing from the Marianist tradition and Mary's example. More information and registration .
Questions – contact Adèle Social Justice Project.
Associate Director of Marianist Student Initiatives
The Office of Civic Engagement (OCE) at St. Mary's University is seeking an associate director of Marianist Student Initiatives. The OCE develops and promotes programs grounded in Catholic Social Teaching, social justice and solidarity that advance the mission and identity of the university. The associate director serves to both maintain and grow the mission-focused programming and leadership development opportunities facilitated by the OCE. Learn more.
FamilyOnline Submissions
We welcome and encourage submissions of interest to our nearly 3,400 subscribers. Please send them to Bernadette McCaffrey Groner