The Centenarian: Brother Francis Heyer Celebrates 100!
When Bro. Francis Heyer turned 100 on Sept. 1, he received one of the biggest surprises of his life: A Papal Blessing and greetings from the Governor of Missouri.
The week was packed with surprises and celebrations to honor this oldest living Marianist in the United States Province and across the entire Marianist world.
Bro. Francis has suggestions for reaching the century milestone. "First and foremost, love God. Pray. Lead a healthy life. Accept change. Also, stay in touch with family and friends. Whatever you do, do in Mary's name."
Fr. Al McMenamy, who lives with Bro. Francis in their community in St. Louis, says Bro. Francis is "an education in small things. I've watched him take care of the lawns and flowers outside. He loves some birds, and he still finds little chores to do in the house. At his age, I admire his efforts to be faithful in his prayer and our community life."
A Helping Hand That Makes All the Difference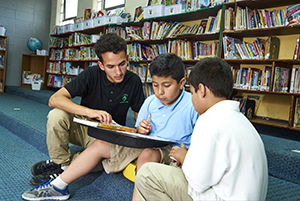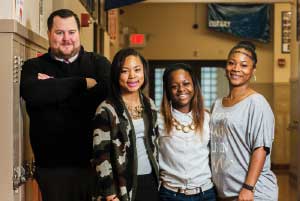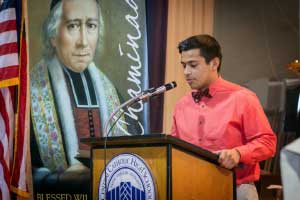 The Marianist Urban Students Program (MUSP) offers students the financial, academic and social support they need to succeed at a Catholic Marianist high school, so that college and a bright future can become a reality.
It is a sad fact that in many American cities, the high school graduation rates for disadvantaged students hover around 50 percent. The pandemic has created even more challenges. Without this most basic educational credential, thousands of young people face an uncertain future.
MUSP offers a young person the helping hand that makes all the difference.
To learn more, click here.
Watch Bro. Jesse O'Neill's video about the significance of the MUSP program.
A Marianist Moment
By Bro. David Betz
Witnesses
We celebrated the Marianist Martyrs of Cuidad Real on Sept. 18. They are Carlos Eraña, Jesús Hita, and Fidel Fuidio. For this month's Marianist Moment, I share with you a reflection written by Bro. Juan Issa, SM. This reflection comes from a pamphlet titled, "Witnesses," produced by the Province of Spain. Spend some time reflecting on these words as you consider being witnesses to Jesus and continuing the Mary's Mission of bringing Him to the world. Granted, you may not aspire to be a martyr, but we are called to share the Good News in all we do and say.
Marianist Ministries in Action
Building on a Legacy: Chaminade College Prep-St. Louis Starts Year Under New Leadership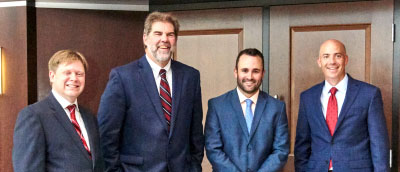 "Fr. Ralph Siefert was probably the best CEO of any secular or religious organization I've ever encountered," said Joe Eckelkamp, chair of the Board of Trustees at Chaminade College Preparatory School in St. Louis. "He had a clear vision for the school, along with great foresight."
That foresight included a year-long leadership transition plan in which he would mentor Todd Guidry, the new incoming president, and the leadership team that includes Phillip Rone, principal of the high school for the past nine years, and incoming principal of the Middle School, Jack Twellman.
But that plan was quickly revised when Father Ralph fell ill and died on August 20, 2021.
So while shock waves of grief rippled through the close-knit Marianist and Chaminade families, the school's top administration geared up to lead the school.
Todd acknowledges the immense legacy left by Fr. Ralph. "Our strong academic programs, extracurricular and faith-development programs, our financial stability, our world-class campus, our deep embrace of the Marianist Charism, and the loyalty of our faculty, staff, alumni and parents — all of it are a direct result of Fr. Ralph's leadership."
Adds Phil: "We will continue the direction that Fr. Ralph established, including the mission, spirit and fire of the Marianist Charism and our guiding principles of Marianist education."
The Marianist Lecture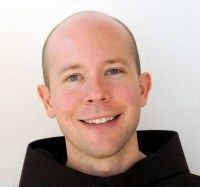 For the past 25 years, the Marianists have hosted the Mackey Lecture on the Kalaepohaku campus sponsored by Chaminade University, Saint Louis School and the Marianist Center of Hawaii. Now named, "The Marianist Lecture" it honors the presenter with the Mackey Award for Catholic Thought. The presenter this year was Franciscan Fr. Dan Horan, OFM, director of the Center for Spirituality and Professor of Theology at St. Mary's College in Notre Dame, Indiana.
His lecture, "The Spirituality of Justice: Racism and Climate Change: A Catholic's Response" was held on Sept 26.  To listen to the lecture, click here.
Vespers celebrate the Exultation of the Cross, and Venerable Marie Thérèse DeLamourous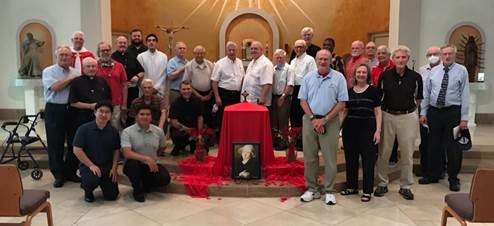 Fr. Bill Meyer, Rector, and Fr. Brandon Paluch, planned and gathered members of the St. Mary's University Marianist community for vespers to celebrate the Exultation of the Cross and Marianist Lay Collaborator, Venerable Marie Thérèse DeLamourous. Marianist Sisters Gretchen Trautman and Grace Walle, were also present.
More Than an Idea
In June, Fr. Jim Heft published his latest book titled, The Future of Catholic Higher Education – The Open Circle." Drawing upon his extensive experience, Fr. Jim lays out the current state of Catholic higher education and what needs to be done to ensure that Catholicism isn't phased out of the educational system. Fr. Jim is the president emeritus of the Institute of Advanced Catholic Studies (IACS) at the University of Southern California. Read the most recent review by Commonweal magazine by clicking here.
Please join us in prayer for these members of the Marianist Family.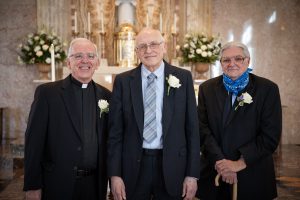 Marianists in St. Louis Celebrate Jubilees
Congratulations to Fr. Tim Kenney (50 years profession), Bro. Ken Straubinger (60 years of profession) and Bro. Louis Fourier (50 years of profession) who celebrated their Jubilees during a Mass at Our Lady of the Pillar Church in St. Louis on Saturday, Sept. 25. The Jubilee Mass was followed by a reception in the parish center.
32nd Annual McBride Communion Breakfast and Hall of Fame Ceremonies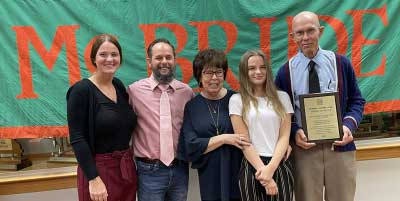 Bro. Larry McBride was honored at the 32nd Annual McBride High School Communion Breakfast and Hall of Fame Ceremonies on Sept 11, 2021, at Chaminade College Preparatory School in St. Louis. While at McBride, Bro. Larry was a home room rep, sodality member, played football (honorable mention all-district) and participated in track all four years. He also was active in student court and yearbook committee. Congratulations, Bro. Larry!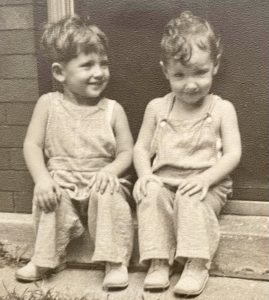 Who is…
A little challenge from the Marianist Archives in San Antonio… Can you guess who is featured in the photo above? Hint: One of these two will grow up to be a Marianist. Click here to see more photos and the answer will be revealed.
Thanks to Bro. Brian Zampier for submitting this challenge.
North American Center for Marianist Studies – Program and Technology Assistant

The North American Center for Marianist Studies (NACMS) is seeking a full-time Program and Technology Assistant. This position will provide support to the development and delivery of NACMS programs and support the technology needs of the NACMS staff. Learn more.
(posted September 29, 2021)
Marianist Family Council of North America (MFC-NA) – Director for the Marianist Social Justice Collaborative (MSJC)

The Marianist Family Council of North America (MFC-NA) is searching for a Director for the Marianist Social Justice Collaborative (MSJC). The position application window will close October 22, 2021. The complete position description and information on how to apply may be found here. Applications must include a cover letter, an updated resume, three references, and a writing or presentation sample. Following the closing of applications, the search committee will move forward with the interview process leading to selection by the,MFC-NA. For more information on the MSJC, please click here.
(posted September 29, 2021)
FamilyOnline Submissions
We welcome and encourage submissions of interest to our nearly 3,400 subscribers. Please send them to Bernadette McCaffrey Groner.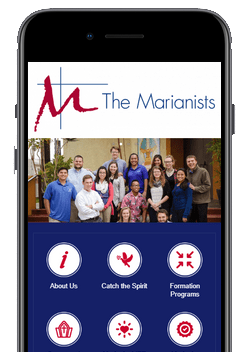 GET CONNECTED!
Stay in touch with the Marianist Province by downloading our new mobile app!

Download your free copy today for easy access to information that supports the work of Marianist-sponsored ministries. Compatible with Apple iOS and Android devices.