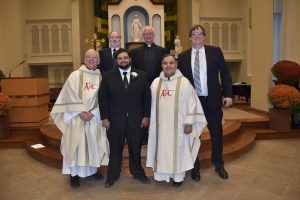 Congratulations Bro. Justin Quiroz
Bro. Justin Quiroz professed perpetual vows in the Society of Mary (Marianists) on Oct. 2, 2021, at Immaculate Conception Chapel on the campus of University of Dayton in Dayton, Ohio. Fr. Oscar Vasquez, provincial of the Marianist Province of the United States, presided at the Eucharist and received the vows. Fr. Tim Kenney, assistant for religious life, concelebrated. Fr. Neville O'Donohue, also concelebrated and was the homilist. Bro. Charles Johnson, director of temporary professed, presented Bro. Justin for the Rite of Religious Profession. Fr. Bob Jones was the Master of Ceremonies.
The vow ceremony was livestreamed so that Marianist family members and friends from throughout the world were able to virtually witness the celebration.
View the recap of the vow ceremony.
A Marianist Moment
By Bro. David Betz
The Month of the Rosary
During the month of October, the Church celebrates Our Lady of the Rosary. The feast was established by Pius V in 1573 on October 7 to thank God for a victory over the Turks in a naval battle at Lepanto, Greece, since it was believed that praying the rosary contributed to the victory. In 1884, Pius XII established the entire month of October to be dedicated to the devotion of the rosary. The rosary was a strong devotion until Vatican II (1962-1965), when the practice waned, but there has been a resurgence, including John Paul II adding the fourth set of mysteries called the Luminous Mysteries. (See "Brief History of the Rosary.")
Office of Sponsorship Gears Up With In-Person Workshops in St. Louis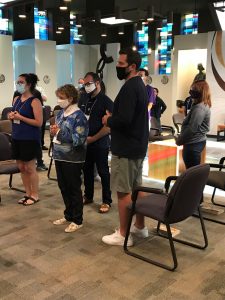 For more than 18 months, the Office of Sponsorship, which oversees a network of Marianist sponsored ministries, has been hosting workshops and meetings via Zoom.
That changed when "Teaching as Ministry," the first in-person workshop for Marianist educators, was held Oct. 5 – 7 at the Marianist Retreat & Conference Center in Eureka, Missouri. Twenty-seven educators from California, Florida, Hawaii, Missouri, Nebraska, Ohio and Texas participated.
The workshop provided an opportunity to "spend time with each other and share with new and old friends," said Dan Donnelly, director, Office of Sponsorship. "We have experienced a lot of Zoom meetings, distance learning and other practices that separate us. What people crave, more than anything, is human contact — the kind you experience through Marianist Family Spirit."
The sponsorship program also held in-person workshops Oct. 22 – 24 at its annual Marianist Administrators Conference in St. Louis. A board development workshop was offered for chief administrators and board chairs. Other workshops were geared toward school principals. A total of 75 people participated.
The workshops were well attended, in part, "because we required that everyone is vaccinated, and we carefully followed CDC protocols," said Dan. "Participants liked knowing that the workshops were held in an environment that promoted safety." See more photos.
Bilingual Marianist Consecration
On Oct. 2, for the first time in Marianist history, a bilingual Marianist consecration was made forming a Marianist Family community spanning the United States and Mexico.
After receiving formation for six months and saying 'yes' to Mary, a new community was born. It is comprised of members from Monclova Coahuila, Mexico (located north of Mexico City), and New Braunfels, Texas.
Bros. Edward Longbottom and Esteban Reyes are members of this new community.
Congratulations to all the members of this wonderful new Marianist family.
Marianist Ministries in Action
Feast of Our Lady of the Pillar
On Oct. 12, Marianists around the world celebrated the Feast of Our Lady of the Pillar. The feast is celebrated in memory of the graces received by Blessed Fr. William Joseph Chaminade at the Shrine of Our Lady of the Pillar during his exile in Saragossa, Spain (1797-1800). It is during that time that Fr. Chaminade was inspired to create the Marianist Family and to found the Society of Mary and the Daughters of Mary Immaculate.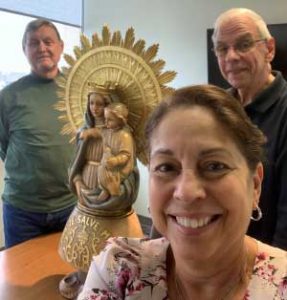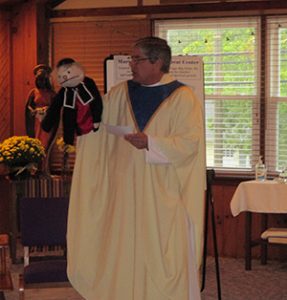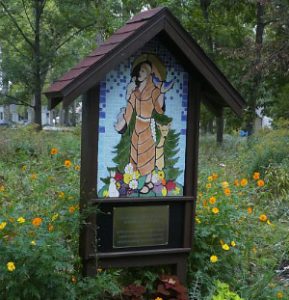 Blessing of St. Francis Shrine
On Oct. 3, the Marianist Governor's Island Community in Huntsville, Ohio, gathered with more than 30 friends to bless their new St. Francis shrine. Bro. Don Smith made the mosaic, and two individuals who are part of their chapel community helped build the shrine and plant the flowers. Fr. Syl Kerketta blessed the shrine and those in attendance sang the prayer of St. Francis, "Make Me a Channel of Your Peace".  Bro. Roger Bau reports, "This project has been in the making for two years, and we finally blessed it the day before the feast of St. Francis on Oct. 4."
Please join us in prayer for these members of the Marianist Family.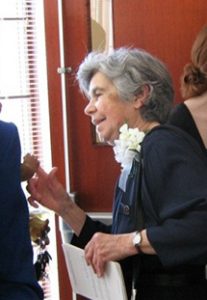 Sr. Mary Louise Foley, 84, (Sr. Mary Patrick) passed away peacefully at Diversicare Siena Woods, on Tuesday, Oct. 19. Her parents, Edward and Regina (nee Kelly) Foley, sister-in-law Joan Foley and many members of her Marianist Family preceded her in death. She is survived by her brother, retired Judge Patrick Foley of Dayton, her sister Jeanne Foley, of Cleveland, and well-loved nephews and their wives.
Jan Dixon Retires as Editor of ALIVE Magazine
"It's been a life-changing journey," said Jan Dixon, who retired this month as editor of ALIVE Magazine. "I've been privileged to witness and write about Marianist outreach among people experiencing poverty in India, Eastern Africa and Mexico, as well as their tremendous work at schools, retreat centers, parishes and other ministries in the United States."
Jan helped launch the award-winning ALIVE magazine in 2004 with the help of the late Father David Paul and Diane Guerra. Father Dave was responsible for fundraising and development for Marianist ministries in developing regions. Diane served as national director of communications until 2016.
"When I accepted the position in 2002, I had no idea what I was getting into," said Jan. "But I felt compelled to say 'yes.' Since then, I have stood in awe of so many — religious and lay — working in ministries as teachers, chaplains, caregivers and followers of Mary."
Jan said she couldn't have edited ALIVE magazine — 54 editions spanning 18 years — without some very talented people, including graphic designer Jean Lopez and a skilled production and proofreading team comprised of Ann Mueller, Kathy Cooper, Pat Stephens, Linda Hayes, Jane Palish and Bernadette Groner.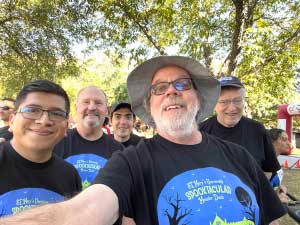 St. Mary's University Spooktacular 5K Monster Dash
On Saturday, Oct. 16, St. Mary's University held a Spooktacular 5K Monster Dash. The proceeds benefited Holy Rosary Parish. There were 5 participants from the Casa Maria Marianist Community.  José Manuel Gutiérrez received a medal for placing 2nd in the 20 – 29 age category and was 14 out of 177 runners. Congratulations José ! Thanks for sharing Bro. Brian Zampier!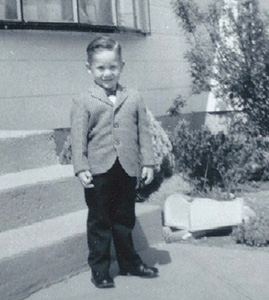 Who is…
A little challenge from the Marianist Archives in San Antonio… Can you guess who is featured in this photo? Hint: He will grow up to be a Marianist.  Click here to see more photos and the answer will be revealed.
Thanks to Bro. Brian Zampier for submitting this challenge.
North American Center for Marianist Studies – Program and Technology Assistant

The North American Center for Marianist Studies (NACMS) is seeking a full-time Program and Technology Assistant. This position will provide support to the development and delivery of NACMS programs and support the technology needs of the NACMS staff. Learn more.
University of Dayton Campus Ministry – Assistant Director of Liturgy

University of Dayton Campus Ministry has an available position within its Liturgy area.  The assistant director of Liturgy collaborates with the liturgy team to establish a vision for and ensure the development and successful implementation of university liturgies, liturgical catechesis, liturgical ministry formation, and sacramental preparation. Learn more.
FamilyOnline Submissions
We welcome and encourage submissions of interest to our nearly 3,400 subscribers. Please send them to Bernadette McCaffrey Groner.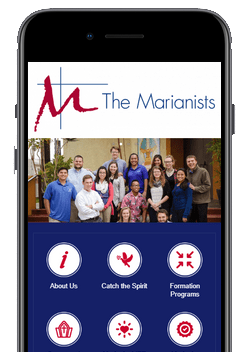 GET CONNECTED!
Stay in touch with the Marianist Province by downloading our new mobile app!

Download your free copy today for easy access to information that supports the work of Marianist-sponsored ministries. Compatible with Apple iOS and Android devices.