Thanksgiving Blessings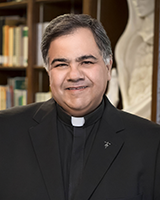 On behalf of the Marianist Province of the United States, we wish you a Happy Thanksgiving. As the world continues to feel the strain of this pandemic, let us ask God to give us the strength. May God's presence in our lives bring comfort and patience.  Know that each of you remains in our thoughts and prayers. Please keep us in your prayers.
Fr. Oscar Vasquez, Provincial
Marianist Province of the United States
Please click here for a Thanksgiving prayer from the Marianist Mission.
Marianist Sisters Celebrate Black Catholic History Month
During November, the Marianist Sisters Province of the U.S. celebrated Black Catholic History Month. In light of this fact, earlier this month (Nov. 3 – the feast of St. Martin de Porres – the first black Saint from the Americas) Marianist Sisters released a statement on anti-racism.
The statement reads:
As Marianist Sisters of the Province of the United States, we join the Marianist Social Justice Collaborative in wholeheartedly committing ourselves to end the sin of racism.
By participating in the process of creating right relationships and respecting the dignity of each person, we are determined to eradicate racism within ourselves, our Congregation, and our global community in order to build a Church where no one is left out.
Sr. Nicole Trahan, provincial assistant for education, said, "In light of the events in 2020 – the continued killings of unarmed black people, the protests, counter-protests, the uncovering of systemic racism that many thought was long gone – the FMI Provincial Council asked our JPIC Team to write a new statement on anti-racism."
Sr. Gretchen Trautman, provincial, ended her circular with these words:
Pope Francis urges us all, 'In the name of God, who has created all human beings equal in rights, duties and dignity … to live together as brothers and sisters … with values of goodness, love and peace.' (Fratelli Tutti #285) This is a duty required of all persons, but especially of ourselves as religious.
"By this statement, we wholeheartedly commit ourselves to active engagement with the Marianist Family," says Sr. Nicole. "We collaborate in these efforts, grounded in our common charism, to direct and transform, to eliminate racism, to build community."
A Marianist Moment
By Bro. David Betz
Giving Thanks!
As you read this reflection, we, in the United States, are anticipating the Thanksgiving holidays where giving thanks is the dominant theme. We are reminded that giving thanks is important to express when we have received blessings from our God and others. These blessings can take many forms such as a simple gesture of saying hello, an act of kindness or receiving a gift that may have been expected or unexpected. It is an attitude that has been instilled in us from the time we were young. Our mothers would remind us often what we needed to say when someone spoke a kind word to us, gave us a sweet or a gift or did something out of the ordinary that benefited us. Giving thanks is a fundamental attitude to have when creating and sustaining relationship with God and the people in our lives.
Marianist Ministries in Action
Formation Weekend
The Marianists recently held their first virtual Formation Weekend. Fr. Tim Kenney reported that more than 40 participants from three countries and four states shared in sessions focused on religious life. The main topic was on the vow of celibate chastity with presentations and discussion around identity, integration, fears, self image and relationships.
Marianist Ministries In India Adapt As Coronavirus Takes Its Toll
The total number of COVID-19 cases in India reached 9 million last week and the death count hovers around 133,000. While the United States death toll is nearly double that of India, this country of nearly 1.4 billion people has witnessed devastating losses.
When the country shut down last spring due to the coronavirus, Marianist ministries in India were immediately disrupted.
"We are doing our best to minimize the impact of COVID by reaching out to families and children in their homes," said India's District Superior Fr. Sudhir Kujur. That means educating parents about the virus, as well as providing food, masks and cleaning supplies to thousands of families, many of them living at or below the poverty level.
Because of the virus, most students at Marianist-sponsored schools in India are engaged in some type of online learning. For example, even without laptop computers, about 65 percent of students at Morning Star School in Singhpur have access to smartphones. By using social media apps, they are able to receive and return their school assignments. For those without access to technology, Marianist educators reach out to students directly.
"Our educational institutions are doing their best to assist students so that their education is not disrupted, regardless of the pandemic," said Fr. Sudhir.
Learn more about Partnering with the Poor ministries in India and Eastern Africa.
Tecaboca Offers Advent Retreats – The Perfect Family Getaway
With the first Sunday of Advent just around the corner, Tecaboca, a Marianist retreat center in Mountain Home, Texas, invites families to sign up for Advent Family Getaway Days on Dec. 4-6; Dec. 11-13; or Dec. 18-20.
"The retreat setting provides a place where families can be together and enjoy nature," said Kay Tally-Foos, executive director. Since late May, Tecaboca has hosted families on most weekends and provided two weeks of summer camp, developing successful health protocols for keeping families and campers safe.
"Tecaboca's large indoor and outdoor spaces provide the perfect opportunity to focus on the birth of the Christ Child, especially when regular Church is difficult because of social distancing challenges," said Kay.
The retreats provide spiritual respite, with morning and evening prayer, Mass on Sunday and self-guided materials for wandering, pondering and praying.
They also offer plenty of time for families to enjoy fun activities such as cookie decorating, Advent and Christmas crafts, as well as archery, kayaking, fishing and other outdoor sports.
"One child, who asked for a getaway weekend for her birthday, told her parents: 'This is better than Disneyland!'" said Kay. "It doesn't get much better than that!"
For more information about accommodations, meals and programming, click here.
St. Vincent-St. Mary Renews Marianist Sponsorship
On Nov. 18, St. Vincent-St. Mary's (STVM) President, Mr. Tom Carone and Executive board Chair, Mr. Jack Weisensell signed a five year extension as a Marianist-sponsored school in Akron, Ohio. The Marianist sponsorship agreement defines how the Marianist Province of the United States and its network of Marianist-sponsored ministries work together collaboratively as animators of the Marianist Spirit. This is achieved through programs and services offered by the Office of Sponsorship to form individuals in the Marianist charism and to help sponsored ministries deepen and sustain their Marianist mission and identity.
St. Vincent-St. Mary High School became a Marianist-sponsored ministry in 2017 after an extended period of discernment and formation. The renewal of this Agreement affirms the ongoing commitment of both St. Vincent-St. Mary and the Marianists as partners in mission. Read more and watch the video of the ceremony.
Encore-Online Marianist History Course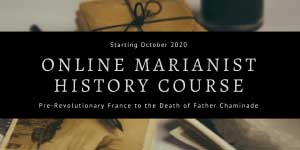 This Fall, The North American Center for Marianist Studies (NACMS) has offered an Online Marianist History Course to members of the Marianist Family. It has been such a success that they have decided to offer Part One of the course again, starting January 2021. This course has been adapted from the Marianist History course that has been offered to Novices in formation with the SM and the FMI. Registration is now open online until January 7th.
To learn more, click here.
Please join us in prayer for these members of the Marianist Family.
Fr. Rudy Vela's Funeral Mass: Fr. Rudy died on September 29. His funeral mass was October 7, 2020, at Holy Rosary Catholic Church in San Antonio, TX.  Please click here to see the video of Fr. Rudy Vela's funeral mass.
Graduate Assistantships at University of Dayton
Graduate Assistantships at the University of Dayton


Share your faith ministering to college students while pursuing a Masters in Theology or Pastoral Ministry. Work alongside seasoned campus ministers and engage in holistic ministerial formation as you form your own ministerial identity and approach. Serve undergraduate students by journeying with them to cultivate faith, foster spiritual growth and form Christian leaders through spiritual mentoring and discipleship, leading small groups, facilitating retreats, planning worship, coordinating service and justice initiatives and more.
Positions for the upcoming year will be comprised of unique portfolios that include a combination of the following: Residence Life ministry, retreats, service and justice, and vocational discernment ministries. Tuition, stipend and housing are provided.
Click here for application and more information or contact Kelly Adamson, (937)229-2574.
Applications due Feb. 1.
FamilyOnline Submissions
We welcome and encourage submissions of interest to our nearly 3,400 subscribers. Please send them to Bernadette McCaffrey Groner.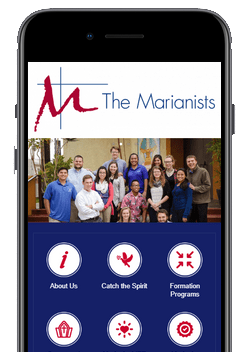 GET CONNECTED!
Stay in touch with the Marianist Province by downloading our new mobile app!

Download your free copy today for easy access to information that supports the work of Marianist-sponsored ministries. Compatible with Apple iOS and Android devices.