Last year, Fr. Josephraj Rymond, a Marianist priest from India who is serving in campus ministry at Chaminade College Preparatory in Los Angeles, had an idea.
Why not collect money from recycling plastic bottles and aluminum cans at the school campuses and send the proceeds to help fund the Marianist REDS ministries in India?
Started 30 years ago, REDS (Ragpickers Education & Development Scheme) was originally focused on providing support for the children who picked through trash looking for recyclables to sell in order to survive. Today, the program continues to operate ministries aimed at helping impoverished children and their families create a better life though education and training.
With Bro. Tom Oles, the two Marianists enlisted help from the Environment Club at the high school and EPICC, an ecology program at the middle school, as well as faculty and staff.
"The school bought 50 large bottle-shaped recycling bins that were distributed to both school campuses for recycling," said Fr. Joseph.
The students and faculty advisers – Julie LaBelle Sprouse, Luis Guerra, Elizabeth Cantwell, Joe Norton, Jason Kertz, Kathleen Baucom Acker, John Apablasa, Yesenia Rivera, Agapito Valderrama – gather the bottles and cans each week and bring them to the recycling center to collect the proceeds.
The program is on track to raise about $2,000 for REDS this year. "We'd like to see this continue every year," said Fr. Joseph. See more photos.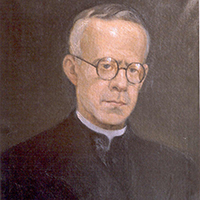 Marianist Moment: The Marianist World Has a New Venerable
by Bro. David Betz
The Marianist World has a new Venerable! Fr. Domingo Lazaro Castro, SM, was declared Venerable on April 16, 2019. Read the article.
Last month, I shared the first step of becoming a Saint. This month, I'll share with you the second step.
Once the initial diocesan investigation is completed, it is sent to the Congregation for the Causes of Saints in Rome. If it is accepted, the person is designated as a Servant of God. Then, further investigation is done and a position paper or the Positio is prepared. This Positio is a more detailed investigation of the sanctity and virtue of the person's life and, when completed, it is presented to a panel of nine theologians from the Congregation for the Cause of Saints. This panel reviews the material and decides if there is enough cause to pass it onto the entire Congregation. The entire Congregation then is responsible for making sure that the candidate's writings and other aspects of his or her life do not go against the teachings and practices of the Church.
During this phase, a "devil's advocate" is appointed, and this person will pose questions and objections to the candidate's Sainthood. The devil's advocate's presence is to ensure that the process is fair. If the candidate's faith life is determined to be heroic and virtuous, he or she is given the designation of "Venerable."
Marianist Prayer Experience
We have received our first prayer experience from Nancy W. De Honores, one of our Marianist Affiliates:
I prayed and asked Fr. Chaminade for the cause of Bro. Miguel (Michael) Quiroga, whom no one knew around here. I'm so happy his cause has received the attention of General Administration in Rome, thanks to Fr. Antonio Gascón, who initiated the process to beatification.
Reminder
Please continue to share your prayer experiences of calling on the Marianist saints using this form. We hope to share one prayer experience each month in FamilyOnline.
Marianists of Hope and Joy: Reimagining the Dream
Fr. Bert Buby
Fr. Bertrand Buby is a spiritual advisor for Marianist Affiliates and those in religious formation in Dayton, Ohio.
What gives you hope?
My work at the University of Dayton as a spiritual advisor gives me great hope in the immediate future. I see many young students committed to taking leadership roles in Lay Marianist Communities and also their professional careers where they will continue to learn, lead and serve.
My role in mentoring Marianist brothers, priests and sisters in formation – those interested in living and promoting the Marianist Charism – also gives me hope. These are people who will lead the way in promoting justice, peace and concern for planet Earth.
What brings you joy?
Joy is a natural trait for many members of the Marianist Family. As an advisor for Marianist Affiliates, I see this joy at Marianist gatherings. In March, I attended an event at Mount Saint John in Dayton where more than 100 members of the Marianist Family – Lay Marianists, brothers, priests and sisters – gathered. It was such a joy-filled experience. One of my fellow Marianists, Bro. Tom Giardino, said he was so moved by this large group of people, all dedicated to Mary's mission, that it nearly brought him to tears.
Marianist Family Members in the News
Marianists Celebrate Religious Brothers Day

The third annual Religious Brothers Day was held on May 1, the Feast of St. Joseph the Worker. This is a special day to celebrate and recognize the special gift that men who are called to the vocation of religious brotherhood bring to the world. It is also a time to pray for vocations  and share the ministries of religious Brothers.
To honor Religious Brothers Day, The Catholic Telegraph published an article. Bro. Bob Dzubinski, one of the religious Brothers featured, shared his vocation and ministry as a Marianist Brother. Read more..
Congratulations Marianist Graduates
Two Marianist Brothers earned distinguished degrees from University of Dayton this May.
Bro. Tchamiè Thierry Kadja (Togo) graduated on Saturday, May 11, with a Master of Science degree in electrical engineering from University of Dayton. In his spare time, Bro. Thierry taught engineering classes at Chaminade Julienne High School in Dayton.
Bro. Blaise Mosengo (Democratic Republic of the Congo) earned his Doctor of Philosphy in Educational Leadership.  His dissertation was titled "A Phenomenological Study of Academic Leaders at the Marianist University in the Democratic Republic of Congo.  See more photos.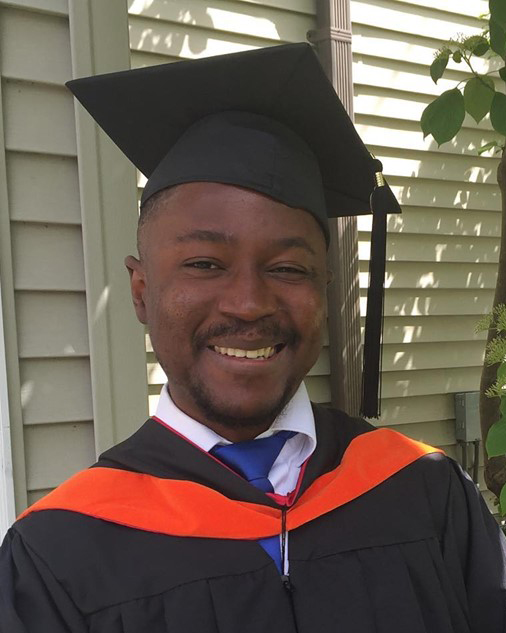 Marianist Ministries in Action
Marianists Welcome New Affiliate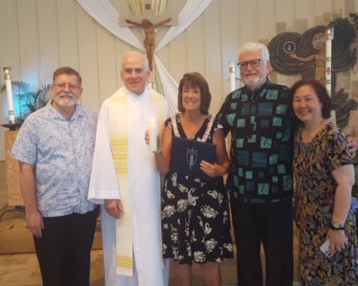 The Marianist Family welcomed its newest Affiliate, Kay Stone, on Sunday, May 12. The Marianist Affiliation Ceremony took place during the Liturgy of the Eucharist in the Mystical Rose Chapel on the campus of Chaminade University of Honolulu. Fr. Marty Solma presided. Kay has been a Marianist Educational Associate and a Lay Marianist for many years. She was a professor at Chaminade University for many years before moving to Florida with her husband. Welcome as a Marianist Affiliate Kay!
Marianist Affiliation is a unique expression of commitment to the Marianist Family and the Church. Spiritual affiliation is a special vocation in the Church and the Marianist Family of following Mary's example — her trust in God's promises, her openness to God's action in her life and her faithful response to God's call.
Just as Mary welcomed all people, Affiliates are open to spreading God's Good News to all people, welcoming them to a life of devotion to Christ's teachings. Becoming a Marianist Affiliate is a public commitment to live a life of prayer, faith, love and service.
Ohio Lt. Governor Visits Chaminade Julienne
On Friday, May 17, Ohio Lt. Governor, Jon Husted, and other state officials visited Chaminade Julienne Catholic High School (CJ) to learn more about the school's City Connects program. The program, which was launched at CJ nine years ago, seeks to provide each student the most enhanced and engaged high school experience by connecting them with a tailored set of enrichment, prevention and intervention services. Chaminade Julienne worked with Boston College in piloting the program for high schools, developed from the elementary school model.
"City Connects works at CJ because we have such a tremendous assets within the community," said CJ principal John Marshall '86.  "It helps us organize though resources and prioritize what we focus on. There are so many people who want to help us, help students, and it helps us focus and align the right resources at the right time."
The state officials wanted to learn more about City Connects as it correlates with proposed wraparound services in the Ohio state budget. The $550 million proposal for wraparound services is being debated in the state senate.
Other state officials who joined Lt. Gov. Husted included Ohio's Superintendent of Public Instruction, Paolo DeMaria; State Board of Education Member Charlotte McGuire, State Senator, Peggy Lehner and State Representative, Niraj Antani.
St. Mary's Students Honored for Heroic Actions
St. Mary's University President, Thomas M. Mengler presented the Brother Louis Ernst Rattler Award to two freshmen baseball players, Caden Floyd and Jake Sims. The annual award honors athletes who demonstrate the best characteristics and values of a St. Mary's Student.
The two athletes were on their way back from a Gulf Coast spring break trip when they rescued a couple involved in a car accident. The athletes helped lift the car and apply a tourniquet to the bleeding driver. Read the story.
Please join us in prayer for these members of the Marianist Family.
Marianists Celebrate Jubilees
Each year, the Society of Mary recognizes brothers and priests who are marking milestones of their first professions of vows or of their priestly ordinations. This is the second group of 2019 Jubilarians we honor as a special section of FamilyOnline.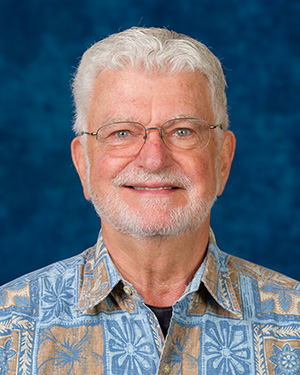 BROTHER JOHN H. CAMPBELL
60 years of profession
It is difficult for me to believe that I am celebrating a diamond jubilee. Essentially, this time in my life is filled with joyfulness and thanksgiving: thanksgiving for my wonderful parents who taught me how to love and how to live with Jesus in my life, and for my sister who loves me more than I deserve.
I am thankful for my Marianist Brothers who educated me and challenged me to do things that I never thought I could do, and affirmed and encouraged me to be the best person I could be. I also am thankful for my friends who sustain and assist me to have balance in my life. You know who you are. Read more.
BROTHER FRANCIS T. SPAETH
70 years of profession
Young men, do you want a great career serving God and guiding students? Well, become a Marianist teacher! I always have thanked God for the call to this dynamic vocation — living with outstanding, dedicated men has been an exhilarating experience! The days and years are a challenge, a lot of work with a lot of fun.
Brothers Lucier and Newbauer, excellent teachers at Purcell High, inspired me to become a forest ranger. The Lord had other plans. Read more.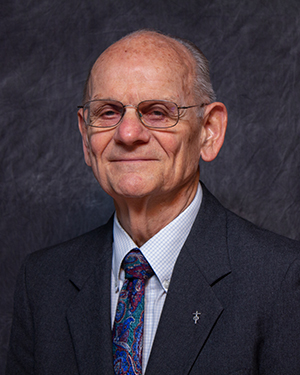 BROTHER RICHARD J. DIX
70 years of profession
I always have considered it a wonderful stroke of luck — or maybe providential — that Don Bosco High School in Milwaukee opened just as I entered high school. It gave me a chance to see Marianists in action. I was impressed by their family spirit, especially their working together in a wonderful joyful way. They were also good teachers. After being asked, I went to St. Louis and finished my high school at the Maryhurst postulate. Read more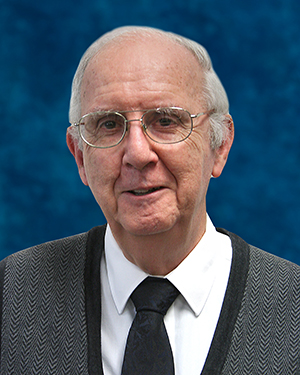 BROTHER HARRY CORNELL
60 years of profession
I have lived in San Antonio since 1945 when my family moved there from Memphis, Tennessee. My parish church was San Jose Mission. My mother was very active in the altar society at San Jose, and she frequently invited the Franciscan priest and brothers who worked there to dine with us at Christmas, New Year's Day, Easter, Thanksgiving and other occasions throughout the year. All of my teachers from grades one to seven were nuns, so, at that time in my life, I never considered teaching as a possible vocation, but I did think of becoming a Franciscan brother.  Read more.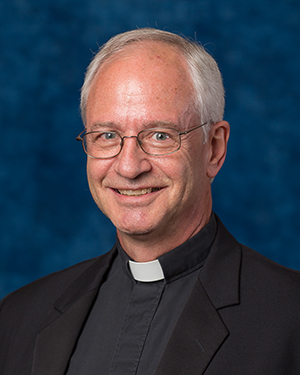 FATHER CHARLES (KIP) STANDER
50 years of profession
In my Marianist life, I have sought to be attentive to the call of God, cooperate with the Holy Spirit and be available to the Society of Mary. In this, I have had a broad experience of connectedness and grace.
I have viewed the Rift Valley from the top of Mt. Longonot and, on the same day, celebrated Eucharist in a very small chapel in community. I have participated in the enthusiasm and excitement of the LIFE program with dozens of young people, and I have quietly prayed and reflected with my brothers on retreat. I have taught in high school, served internationally in formation programs, and worked summers on the property of Mount Saint John. Read more.
FATHER JAMES TOBIN
50 years of ordination
It was September 1945! Mom and Dad sent me to Chaminade in St. Louis to begin fourth grade. My brother, Tom, was already a student there in high school. Through those nine years at Chaminade, Fr. James P. Canning, S.M., always encouraged me to think and pray about becoming a priest in the Society of Mary.
After graduation in 1954, I had been accepted at University of Notre Dame, but at the last minute (challenged by a Marianist), I decided to try out the "road less travelled" and head to Marynook Novitiate in Galesville, Wisconsin. Read more.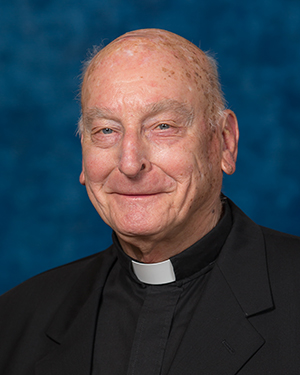 FATHER STEPHEN TUTAS
75 years of profession
A few years ago I learned that the legendary Road to Hana in Hawaii (with its 617 curves) was opened on Dec. 18, 1926, the same day, month and year that I was born in Hamilton, Ohio.
I now look back on my life as a personal Road to Hana, with many turning points and many surprises along the way. I look back with gratitude on all that I have experienced to date. I look forward with hope to the next turning point on the road. In that spirit of thanksgiving and confidence — and with a great sense of wonder — I try to live fully in the present — in the presence of God. Read more.
FATHER CHRIS WITTMANN
25 years of ordination
Today, some consider the life of faith in Christ to be foolish. Even more foolish, would they say, is the consecrated life of celibate chastity, poverty, obedience and stability lived in community under Mary's banner. It is an uncommon life, for sure, and foolish by the standards of the world.
The past seven years as director of novices has given me reason to reflect often on these questions. This ministry has been an unexpected gift and a blessing. Read more.
San Antonio Maraianists Celebrate Jubilees
Congratulations to the 2019 Marianist Jubilarians who gathered in San Antonio on Saturday, May 4, for a Mass and reception to celebrate a grand total of 985 years of dedicated service as Marianists. See more photos.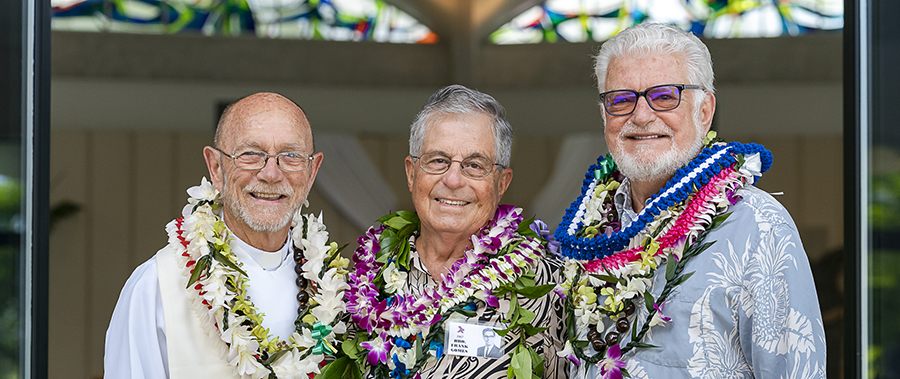 2019 Changemakers Experience
"Changemakers: Creating New Responses for New Times" is a day-long experience developed for members of the Marianist Family and interfaith colleagues, friends and other seekers of justice. Attendees will explore how to address the challenges and possibilities for greater economic, environmental and social justice.
Join a critical mass of faith-filled people to:
Make the needs of our local and global communities more visible
Reflect on responses to those needs
Re-imagine how to take action and make a bigger difference
2019 Catholic Education Summit
On June 21, learn about the partnerships, initiative and innovative solutions that are transforming Catholic education.  The Catholic Education Summit is an educational conference sponsored by University of Dayton Center for Catholic Education. All who have an interest in Catholic education are invited to join us in a spirit of faith and collaboration as we share our commitment to Catholic education – and Catholic educators – in the common mission of the Church.
This year's theme – "Adaptation, Change, Innovation: The Future of Catholic Education" – highlights partnerships, initiatives and innovative solutions that are transforming Catholic education. The Summit will include networking, professional development sessions and keynote presentations from educators, school administrators, diocesan personnel and Lalanne alumni. (Lalanne is a 2-year service program at the University of Dayton for beginning teachers). Learn more and register.
Marianists Who Served in Eastern Africa Reunite
The Marianist Province Care Centers had their annual meeting at the Marianist Residence in San Antonio this May. It was also a rare opportunity for five Marianists who served together in Eastern Africa to reunite, reminisce and take a photo.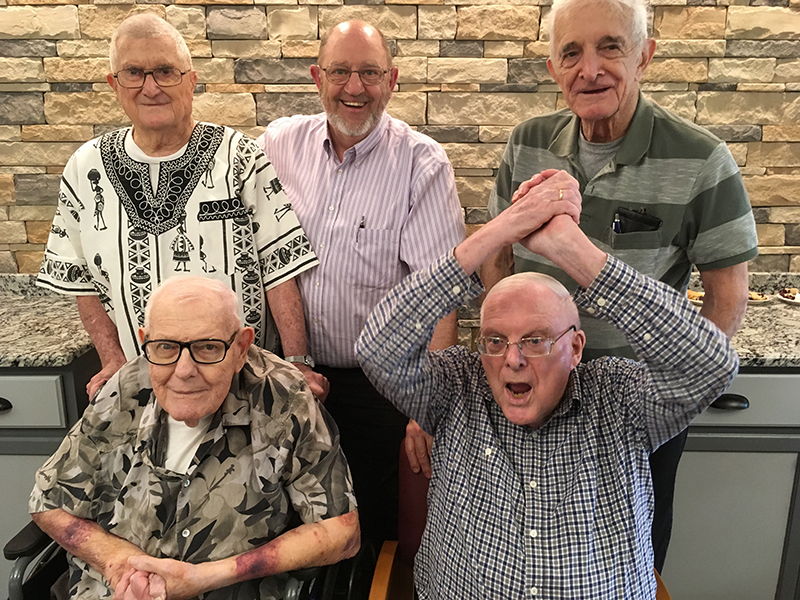 Job Opportunity– Marianist Province, St. Louis, MO

The Marianist Province of the United States is seeking a full-time administrative assistant responsible for assisting multiple staff members with general office and clerical tasks. Must have outstanding organizational skills, the ability to communicate complex issues, and manage multiple projects simultaneously.
Learn more.
FamilyOnline Submissions
We welcome and encourage submissions of interest to our nearly 3,400 subscribers. Please send them to Bernadette McCaffrey Groner