Meet Us at the Crossroads
Marianist Family Encounters Project (MFEP) is a Marianist Family initiative launched in response to two major world issues – responding to the cry of the poor and the cry of the earth –  which Pope Francis outlined in the proposals, Global Compact on Education and Laudato Sí Action Platform.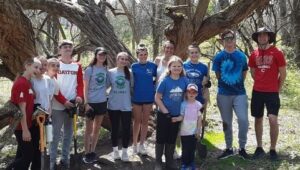 MFEP embraced the Pope's challenge to use the gifts of the Marianist Charism to create life-enhancing projects, both as individuals and as communities, to address global suffering at the crossroads where these social and environmental crises intersect.
"We encourage anyone who feels drawn to work on these issues to go to our website and discern where you might fit," said Bro. Steve O'Neil, who has been working with an eight-member Marianist Family coordinating committee to oversee the projects.  "Ask yourself: 'What is my passion? Where is God leading me to get involved? And where can I best contribute?'"
Mark Laury, ministry lead for the Marianist Family Encounters Project at Chaminade College Preparatory-St. Louis and an art teacher said, "Addressing environmental justice begins with empathy, challenging us to ask: 'What changes are people on the east and west coasts of the U.S. having to make because of climate crises? Living in St. Louis, how are our choices creating unknown effects elsewhere?' By widening our lens to see the bigger picture, we gain a better understanding of sustainability and begin to be more humane. We see how our choices affect our planet and other people in a real way."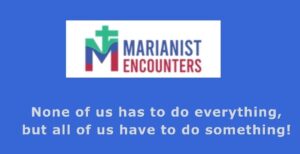 Marianist schools and ministries have made pledges and already initiated several projects to lessen their environmental impact, improve the quality of life for people living in marginalized communities, and support MFEP's goals. Now, they're challenging you to do the same.
All Marianists are invited to create a Marianist Family Encounter Project Day of Action, between April 1-May 31.
Click here to share your pictures and stories of support.
Next month, we will highlight the projects and initiatives of our Marianist Family in Meet Us At the Crossroads Part II.
Lay Marianist Assembly – 12 Workshops Available
The Marianist Lay Community of North America (MLC-NA) will have a full docket of workshops available at its Lay Assembly, July 20-23, 2023, in St. Louis, MO. The following is just a sampling of what will be offered.
Keynote speakers include Fr. Bryan Massingale and Tony Alonso. The final date for all assembly registrations is July 10, 2023. Early bird discounts will be given through April 1. Financial aid scholarships are available and will be reviewed on a rolling, first-come-first-serve basis if funds are still available.  Click here for application materials.
Celebrating 25 Years
The Marianist Social Justice Collaborative (MSJC) was formed 25 years ago among the three branches of the Marianist Family (SM, FMI, and the Laity) as a unique place of connection to keep the fires of justice burning.
Today, more than 80 volunteers advocate and create opportunities for engagement around seven distinct social justice initiatives and look forward to continuing this work well into the future.
As MSJC celebrates its history and prepares for the future, it invites you to participate in the Next 25 Years of MSJC Visioning. Click here to collaborate on a Jamboard – a digital interactive whiteboard.
Throughout 2023, the MSJC will commemorate its milestone anniversary with special resources and events. If you want to sign up for its monthly Justice Jottings newsletters, click here.
People's Law School
On Saturday, March 25, community members were invited to participate in the 29th Annual People's Law School, hosted by St. Mary's University School of Law and the San Antonio Bar Foundation.
They were welcomed to the law school campus, where presenters from private practice, the Bexar County Family Justice Center, Texas RioGrande Legal Aid, the Office of the Texas Attorney General, and St. Mary's Law shared their expertise on some of the following topics:
Wills and powers of attorney
Email and phone scams
Landlord and tenant rights and obligations
Constitutional and criminal law rights
Guardianships and trusts
Plans for retirement
Divorce, protective orders, and Child Protective Services cases
Each topic was presented in a 45-minute session, after which participants could ask questions and speak personally with the instructors.
Justice Fair Raises Funds
Students at Chaminade College Preparatory in West Hills, CA, created an annual Justice Fair to help the underprivileged. Inspired by their teachers and parents to respond in a small but significant way, students crafted products to sell or devised fun activities that could raise money. The Justice Fair, held over several days,  raised more than $12,000 this year and was distributed to almost 30 charitable causes. More than the money, though, these young people learned the importance of responding to the call of those in need.
Click the picture to watch a video from the event.
Marianist Ministries in Action
With Open Arms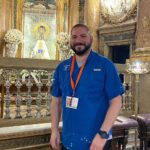 Four years ago, Eric Rodriguez joined a Marianist Lay Community called "The Mantle" in San Antonio, TX, and became a Lay Marianist. That inspired him to attend the Marianist International Assembly in Madrid, Spain, last summer. "It was one of the highlights of my life," he said. "I will always cherish the day we celebrated Mass at the Basilica of Our Lady of the Pillar in Zaragosa, and I was amazed to meet people from around the world and from every walk of life."
While at the Assembly, Rodriguez and his fellow Lay Marianists talked about how they could engage young adults in their ministries. "The biggest takeaway from our discussions was simply this: to invite young adults with open arms, make them feel welcomed and needed," he said. "We often get so comfortable in our communities and forget to invite others to join us, not just the youth, but the marginalized and others looking for a place to grow in faith and community."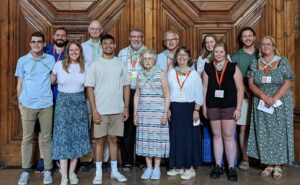 Rodriguez knows a lot about working with youth. His journey with the Marianists started nearly 20 years ago. "I knew about St. Mary's University because my aunt lived in the neighborhood behind the baseball stadium," said the native from Corpus Christi, TX. "But I had never stepped on campus until I took a tour during my senior year in high school. That single step was a life-changer."
Since then, Rodriguez has graduated from St. Mary's – twice. First, in 2008, he received a B.A. in political science, followed in 2012 by a master's degree in public administration. After graduation, he continued his involvement with the university as assistant director of Admissions.
"I spent 12 years in higher education where I guided young adults, helping them find their direction and believing in them even when they didn't believe in themselves," said Rodriguez, a first-generation college graduate. "For most of my career, I worked with underserved school districts and first-generation college students. It was my job to help make higher education a reality for them."
Rodriguez now works for a mortgage company educating first-time home buyers. One piece of advice he offers young adults looking to grow in faith: "Don't be afraid to get involved. I joined my MLC group at a time when I was looking to strengthen and deepen my faith, and Mary guided me to my community. The Marianist Charism has taught me to share my gifts and opportunities with others, and the Marianists have opened so many doors for me. They have enriched my life by making me a better person and helping me serve others."
A Marianist Moment
Do Not Be Afraid, Looking Upon Joseph and Mary as Models of Faith
When reading the gospels for the Solemnities of Joseph, Husband of Mary and the Annunciation of the Lord, a common phrase that one reads is "Do not be afraid." There seemed to be uncertainty on the part of Joseph and Mary, especially when they each were confronted with a request that appeared to be improbable. They most likely were taking into account the social situation of their lives, that is, the mores and the roles of men and women in their Jewish community. These requests would have gone against the grain of society at that time. Therefore they had to be reassured that saying "Yes" would lead to some good in their lives. When the angel said, "Do not be afraid," it appeared to be the reassurance they needed. But more importantly, I believe that it was their lives of faith that contributed to their willingness to follow through with God's requests. Joseph and Mary had great trust in God's providence. And it had to be their deep faith that enabled them to have this trust even in times of uncertainty about their future.
Click here to read more.
Next month, look for a NACMS podcast featuring a conversation with Bro. David Betz concerning the Marianist Saints.
Art Prices Quadruple for Marianist Brother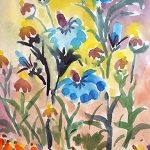 His artwork can be found not only throughout Marianist communities but in galleries, homes, public buildings, and private collections across the United States. The late Bro. Cletus Behlmann (1933-2016) is well known among his peers as a pop expressionist whose use of colors and imagery inspired and delighted.
His work, often depicting secular images such as birds and flowers, as well as religious themes, became popular outside of the Marianist world, with paintings selling for a thousand dollars. While it is fairly common to have the price of an artist's work experience a slight bump after death, what is happening with Bro. Cletus' work is "wildly unusual," according to Natalie Grant, a fine art specialist at Vogt Auction Galleries in San Antonio, TX. She reports that paintings that sold in the low $1,000s just six months ago are now selling for $4,000 or more.
The San Antonio Express-News highlighted the phenomenon in an article last month. Click here to read more.
If you'd like to see more from the Marianist Archives, visit and "like" this Facebook page.
Please join us in prayer for these members of the Marianist Family.
The obituary for Fr. Franz Schorp was not completed in time for the February issue of FamilyOnline. It is now available and can be read by clicking on his name.
Lenten Meditations
As we enter the final days of Lent, are you looking for a way to engage with the season on a deeper level? Take a listen to North American Center for Marianist Studies NACMS Lenten Meditations, available on the NACMS website, Spotify, iTunes, Stitcher, or wherever you listen to your podcasts. Search for "Sharing Our Marianist Stories."
ALIVE Magazine – Spring Edition
The new spring edition of ALIVE magazine is now available.
Inside you will find stories about the Blessed Mother in Sub-Saharan Africa, discover why elderly Marianists are paired with St. Mary's University students, and how the Marianist Invitational basketball tournament scores more than just points.
Click here to read those stories and more in the digital version.
FamilyOnline Submissions
We welcome and encourage submissions of interest to our nearly 3,600 subscribers. Please send them to Theresa Petry.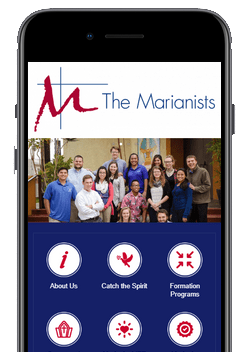 GET CONNECTED!
Stay in touch with the Marianist Province by downloading our new mobile app!

Download your free copy today for easy access to information that supports the work of Marianist-sponsored ministries. Compatible with Apple iOS and Android devices.