Encounter, Embrace, Engage
The Lay Marianist Assembly 2023, a triennial meeting sponsored by the Marianist Lay Community-North America (MLC-NA), was held July 20–23 in St. Louis.
For the 140 attendees from all across the United States, the four-day event was packed with engaging workshops, reflection groups, morning and afternoon prayers, ample time for social activities, panel discussions, films, and a special celebration honoring the 25th anniversary of the Marianist Social Justice Collaborative.
For many, "the highlight of the Assembly was seeing everyone!" conveyed Mallory Green-Lewis, one of five members of the assembly planning team that also included Brian Halderman, Ish Ruiz, Ashley Overeem, and Katy Schunter.
The group hadn't met in person since 2017 due to COVID. "We especially enjoyed the hugs and laughter — and being recharged in mission," said Lewis, Head of Temporalities for the Lay Assembly, who oversaw meeting logistics, including daycare for children of participating parents.
The Assembly's theme, Encounter, Embrace, Engage, gave Brian Halderman hope that Lay Marianists feel a deepened connection with other Lay Marianists across the country. "Through the keynote speakers and workshops, I hope the attendees were able to fully embrace the Marianist Charism in their faith journey and invite others to engage with us," said Halderman, who oversaw spiritual engagement, including the morning and three-o'clock prayers.
Activities officially opened with a dinner and welcome address by Tony Alonso, a Latin Grammy-nominated composer of sacred music and professor of theology at Candler School of Theology at Emory University.
Alonso focused his remarks on a genuine encounter – "one that acknowledges mutuality and reciprocity – a movement from the notion that all are welcome in the church to the actuality that all belong," he said. "I invite us to take Pope Francis' invitation to think of the church as a 'field hospital after battle' seriously and to center on healing wounds. I invite all of us to live more deeply into our commitments to the least among us."
The keynote address was given by Fr. Bryan Massingale, a scholar, activist, and noted authority on social and racial justice. He elaborated on how the Marianist Family could grow by cultivating a theology of encounter, embrace, and engage.  
Click here for more photos.
Summit on Gun Violence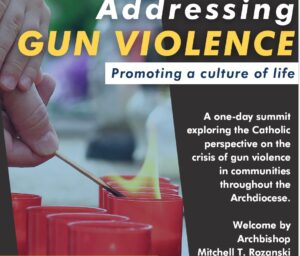 Gun violence has varying forms, from accidental to suicidal, domestic abuse to homicide, and it impacts every community and parish.
That is why the Marianist Province of the United States helped sponsor a one-day summit by the Archdiocese of St. Louis and its Office of Peace and Justice. The July 29 forum explored a Catholic perspective and strategy to address local gun violence because thoughts and prayers aren't enough. Archbishop Mitchell Rozanski provided opening remarks, followed by notable speakers, a panel discussion, and small workshops.
Click here for photos from the event. You can click here to read more from the Missouri Catholic Conference.
If you'd like to listen to a podcast concerning the impact of guns in domestic violence situations, you can click here.
Universities Cross Borders to Collaborate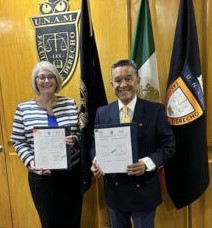 St. Mary's University School of Law signed a memorandum of understanding with Universidad Nacional Autónoma de México (UNAM) Law School based in Mexico City, bringing the two institutions together to advance legal studies.
UNAM, the largest law school in Mexico,  agreed to student and faculty exchanges, the chance for St. Mary's Law students to study abroad in Mexico, and easier access for UNAM graduates to attend the Master of Laws (LL.M.) program at St. Mary's.
"As the southernmost law school in Texas, it is critical we train our students to understand the laws of our closest neighbor — Mexico — and to understand how to do business across our shared border," said Patricia Roberts, J.D., St. Mary's School of Law Dean and Charles E. Cantú Distinguished Professor of Law. "Further collaboration between our two institutions will help build cross-cultural collaboration and understanding, which are essential for today's global economy."
Just Walk Out Technology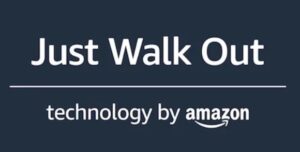 The University of Dayton (UD) has Ohio's first store powered by Amazon's Just Walk Out technology in its popular campus convenience store as a checkout-free shopping and dining experience.
In addition to being the first location in Ohio, The Emporium will be the second convenience-style location at an institution of higher education and one of the largest third-party stores in the United States. UD is also collaborating with CBORD, a technology company specializing in food service and card systems, to allow students to use their meal plan funds at the store.
"We listened to students' requests for longer operating hours, especially later in the evenings, along with self-checkout options," said Dining Services Executive Director Joan Bauman. "The collaboration with Amazon and CBORD is the perfect solution."
"We're proud to collaborate with CBORD and University of Dayton to launch the first store where students can use their meal plan to pay in a checkout-free environment," said Jon Jenkins of Amazon technologies.
One of our Marianist high schools has a new name but with a nod to the old.
What has been known as St. Mary's High School since 1947 is, as of July 1, now St. Mary's South Side Catholic High School. The Marianists have been an influential part of this school since 1933, which was originally called South Side Catholic.
The school held its first-ever block party to celebrate the exciting change. Hundreds of people enjoyed delectable treats from local vendors and food trucks around St. Louis while being entertained by live music.
Enrollment is up 15% from the previous year, with more student applications submitted daily. Administrators report that the first fundraising milestone has been met, and the school is more vital than ever!
Click here to watch an interview with High School President Mike England.
Marianist Ministries in Action
Rival Schools Band Together
Most high school students would do anything not to step foot inside a school during the summer months. But students from both St. John Vianney High School and Chaminade College Preparatory in St. Louis dedicated days of their free time to fine-tuning a musical ensemble.
These two schools may be athletic rivals, but they banded together to provide a concert for brothers at the Marianist Province Assembly 2023. The audience applauded the collaboration — grateful for the inspiring notes of charism and the melody that proved moving for Marianist members.
Special thanks also to the alums who joined the student musicians, band directors Alex Borje and John Hahn for selflessly giving their time, and Fr. Sean Downing for helping coordinate the concert.
Click here to see more pictures. Click here to hear a snippet of the concert.
Move Over, Mark Zuckerberg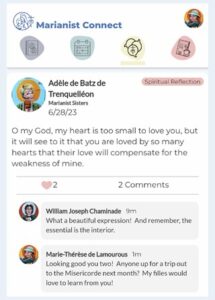 The Marianist Family has a new way to stay connected!
Marianist Connect is a new social-media platform that allows members of the Marianist Family in the United States and Canada to share information and resources.
Since the app launched last month, Marianists have eagerly signed up. The system is easy to navigate and designed to allow you to share on a thought board, create events in the community calendar, and view the message board to see other Marianists' thoughts and scheduled events.
Meghann Naveau, the co-chair for Full of Grace Ministry in Dayton, uses the communications tool as an opportunity for her organization to develop lasting relationships with fellow Lay Marianists. She plans to use it to promote events, seek volunteers, and bolster engagement. "We've seen in the last few years how meaningful community truly is, and any tools we can use to help connect our communities and nurture those relationships are important. We aren't alone, and these types of networks help us stay connected."

National Director of the Marianist Lay Community of North America (MLC-NA), Rob Brodrick, says Marianist Connect is unique. "We finally have one common place where everyone can share information, get news, and access a collective calendar. It is the only place where all members of the Marianist Family can find a directory of each other and send direct messages."
Jack Dalton, one of five Lay Marianists who helped design it, adds, "The directory has a section where users can share how and why they joined the Marianists and list specific ways they are connected to the Marianist Family. It creates a space for everyone to share resources whether they are a large entity or an individual member of a lay community."
If you'd like to join, click the "Get Connected" image and follow the prompts. 
You do not need to be a registered Lay Marianist, SM, or FMI – just someone interested in the Marianists.
Fr. James Tobin, SM(b. 1936) and his mother being greeted by now St. Pope Paul VI (1897-1978), April 1969.
Pope Paul VI (1897-1978, now St. Paul VI, center right), with ((l. to r.) Bros.  Edward Zamierowski (1933-2019), Raymond Streiff, (1916-1997), unknown, James McMenamy (1912-1992), and Bill Callahan (1920-2012), Nigeria, Africa, May 1964.
Bro. W. Patrick Moran, SM (1908-1997) with Sr. Audrey Buttner, FMI (1935-2016) meeting now St. John Paul II (1920-2005) in Vatican City, no date.
Please join us in prayer for these members of the Marianist Family.
Each year, the Society of Mary recognizes brothers and priests who are marking milestones of their first profession of vows or their priestly ordinations. Thank you to our 2023 Jubilarians! We will highlight these celebrants over the course of the next few months in FamilyOnline.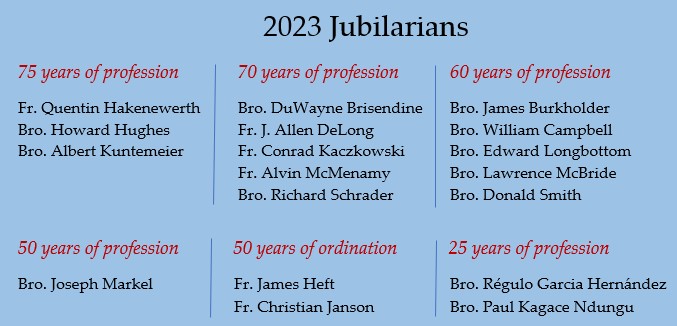 BROTHER DUWAYNE BRISENDINE
70 years of profession
In my 70 years of profession, I've served as a teacher, assistant principal, principal, and professor at various high schools and universities in Colorado, Missouri, Oklahoma, Illinois, Texas, and Japan. I've also held various roles, including assistant director, business manager, secretary, and professor in India, Los Angeles, Rome, and Honolulu.
I was born December 13th, 1935, in Addison, MI, to Edgar and Ardith (Cheesbro) Brisendine and had two brothers and two sisters. In 1951, I entered the postulate at Maryhurst Normal in Kirkwood, MO.
Click here to read more.
FATHER ALLEN DELONG
70 years of profession
A native of Northern California, I entered the Society of Mary in 1952. I achieved a Bachelor of Physics degree from St. Mary's College in Moraga, CA, and master's degrees from the University of San Francisco and the University of Toronto.
My first assignment was as a teacher at St. Anthony's School on Maui in 1956, then assigned to Archbishop Riordan High School in San Francisco, CA. In 1964, I became the founding Principal of Archbishop Mitty High School in San Jose, CA and continued in that position for ten years.
Click here to read more.
FATHER ALVIN MCMENAMY
70 years of profession
I grew up in a very religious family environment on a small farm. We were a big family, growing and sharing in life and our faith. I thought I wanted to be a priest or religious starting in grade school. I joined the Marianists in high school mainly because I liked the brothers who taught me. Their goodness, cheerfulness, and care for one another attracted me. I have been happy in my religious life. God has been good — all the time. I loved teaching and sharing with high school students. For years now, I have ministered with Lay Marianist affiliates across the Midwest and Southwest.
Click here to read more.
BROTHER RICHARD SCHRADER
70 years of profession
I thank God for my Marianist vocation, where I have been able to serve in schools and parishes. My greatest blessing was community life, where I lived with many wonderful and supportive brothers.
I was born in 1935 to Joseph and Marie Schrader on a small farm near Cahokia, IL. In 1943, we moved to East St. Louis. My sisters and I went to Holy Angels Church and school. Religion became a big part of my life with daily Mass, Benediction, Rosary, The Way of the Cross, and being an altar boy.
Click here to read more.
Golden Anniversary
The Marianist Lay Community "Maranatha" was founded at the Marianist Center in Chester, Pennsylvania, in 1973. "We are so very grateful to God for the wonderful gift of our community over the years and the countless graces received and given," said Lay Marianist Linda Zappacosta.
Current and former members gathered to celebrate their 50th anniversary. Brothers Steve O'Neil and Tom Trager from the Philadelphia community joined the festivities in person, and Sr. Laura Leming, FMI, via Zoom. Sr. Laura attended the very first meeting of Maranatha and was a faithful member before joining the Daughters of Mary Immaculate or Filles de Marie Immaculée (FMI).
Now Accepting Seed Grant Applications
Do you have a project that needs additional funds? The Visitation Marianist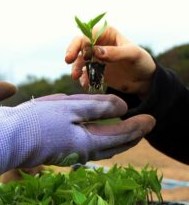 State Community may be able to help. Our community of vowed Lay Marianists provides grants to projects in the following four categories:
Strengthen Marianist Lay communities and networks
Assist in building the Church
Impact the faith and involvement of young adults in the Church
Social Justice, including economic justice, environmental justice, and human rights
Grants are intended for special projects, not for general operating funds. Grant proposals must be sponsored by a member of the Marianist Family.
For more information or to request an application form, click here. Applications are due by August 31, 2023.
Click here to see the projects that received grants in 2022.
Spreading the Word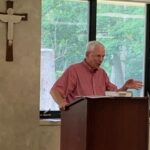 Brother Stephen Glodek was a keynote speaker for the Province Assembly of the Trinitarians (Order of the Most Holy Trinity and of the Captives) in Baltimore, MD, this month. He spoke on "Growing Old and Growing Holy."
He will also be conducting an annual retreat for The Franciscan Brothers of Brooklyn from August 6-12 on Long Island. The theme is: Steadying the Boat in the Name of the Lord: Daring to Reimagine being Franciscan Brothers of Brooklyn Today.
Check Out More Marianist News
Via Latina  from the General Administration of the Society of Mary
Justice Jottings from the Marianist Social Justice Collaborative
AMU Newsletter from the Association of Marianist Universities
District Update #72 from the Marianist District of India

FatherSide Chats is a web video series featuring Fr. Gene Contadino. Discover new episodes every Tuesday about a variety of topics. Click the graphic to view episodes. Click here to read more.
FamilyOnline Submissions
We welcome and encourage submissions of interest to our nearly 3,600 subscribers. Please send them to Theresa Petry.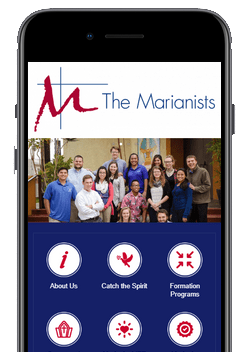 GET CONNECTED!
Stay in touch with the Marianist Province by downloading our new mobile app!

Download your free copy today for easy access to information that supports the work of Marianist-sponsored ministries. Compatible with Apple iOS and Android devices.