The Marianists Announce Departure from St. Joseph Catholic Community
After nearly 40 years of service to the parish, the Society of Mary is withdrawing from St. Joseph Catholic Community of Eldersburg, Maryland due to a declining and aging population of priests in the congregation.
The Marianists' departure is set for June 30, 2020, following discussions and planning with the Archdiocese of Baltimore. The archdiocese is expected to announce arrangements for the pastoral care of the parish soon.
"This was a difficult decision," said Fr. Oscar Vasquez, Marianist provincial. "We have treasured our relationship with the faithful members of the St. Joseph community. Sadly, we no longer have the personnel resources to staff the parish."
Current pastor Fr. Neville O'Donohue has served at St. Joseph since 2011. Other Marianist pastors include: Fr. Terry Weik (2006-2011); Fr. Patrick Tonry (1996-2006); Fr. Ted Cassidy (1986-1996) and Fr. Peter O'Grady (1981-1986). Many other Marianist priests and brothers have served the Eldersburg faith community as associate pastors; among them was Fr. Paul Reich, who served the parish for more than 30 years.
The Marianist presence at St. Joseph began in 1981, and its legacy at St. Joseph is one of growth and progress. During the Marianists' tenure, the parish grew to more than 2,200 families. Under Marianist guidance, the parish expanded the number of ministries and reorganized its administration to create a stronger spirit of collaboration and a more efficient financial system. In recent years, planning centered on inviting all members of the parish community to be missionary disciples in all they do. With increased numbers of worshippers, the parish dedicated a new church building in 1998. A large Formation and Fellowship Center was dedicated in 2015.
"We are grateful and proud to have served St. Joseph for 38 years. We will keep St. Joseph parishioners in our prayers and we ask them to do the same for the Marianists," said Fr. Oscar. "With so many good, dedicated people in the pews, we're confident this parish will continue to flourish."
The Marianists are planning a parish farewell gathering on April 18-19 to honor the  brothers and priests who have served the parish and to thank the St. Joseph Community for their collaboration and support.
Celebrating 200 Years of Marianist Education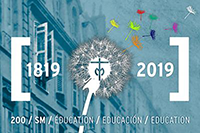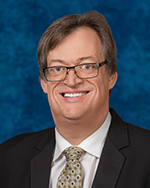 This month, we share with you a reflection from Bro. Joseph Nugent. Bro. Joseph is the chair of the Mission Integration team at Saint Louis School and is temporary professed. His reflection reveals the new light of Marianist Charism in our youth.
Bro. Jesse O'Neill, assistant for education
---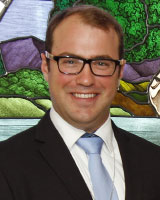 A Marianist Education Reflection
By Bro. Joseph Nugent
Aloha! My name is Brother Joseph Nugent and I have been teaching religion at Saint Louis School in Honolulu for the past year. My journey here has been full of meaningful encounters and rich cultural discoveries. Read more.
A Marianist Moment
By Bro. David Betz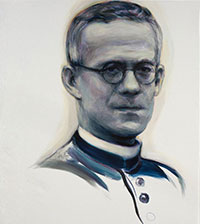 "Venerable Fr. Domingo Lazaro, SM: A Marianist educator extraordinaire!"
Last fall, the Society of Mary initiated the 200th Anniversary Celebration of Marianist Education. In May 1819, the Society of Mary assumed responsibility for a school on the Rue des Menuts in Bordeaux, France. Nine months earlier, the earliest religious of the Society made their vows, and started a discernment process to decide on the apostolic orientation of this fledgling group. Blessed Chaminade had some misgivings about this venture. He did not want to see the young congregation specialize in an area of ministry too quickly. But he was willing to guide this ministry to pursue the Society's goals. "He, therefore, urged them not only to instruct but, more importantly, provide a Christian education within a faith context." (M. Magnan – the S.M. 3 Offices, 9/2019).
During their lifetimes, Marianist Saints were very much involved with the education apostolate of the Marianist Family. One such person was Venerable Domingo Lazaro, SM (1877 – 1935) of Spain. Fr. Domingo was declared a Venerable on May 13, 2019, by Pope Francis. He was a great example of a Marianist educator: "He was a teacher and educator, as a man of the Church, as a partner with other congregations dedicated to education, as a model of openness to the renewal of education and catechetics, as a witness to his faith, as a follower of Jesus, as a Marianist and as a person of profound spirituality," said Fr. Enrique Torres, who recently  wrote an article about Fr. Domingo on the Marianist International website. To get to know Fr. Domingo better, I now invite you to read Fr. Enrique's article. February 22 is his feast day.
Here I Stand
Social Justice Reflection
Dominic Garascia is co-team chair of the LGBT Initiative, an issue team sponsored by the Marianist Social Justice Collabortive.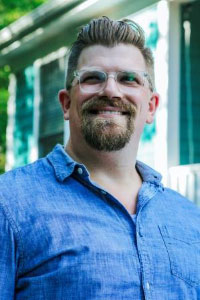 From your work with LGBTQ Catholics, any key insights?
LGBTQ Catholics just want to be treated like all other Catholics. They want a community they can grow with, they want to be welcomed and loved, and they want to belong. LGBTQ Catholics want and deserve a Church that respects them for who they are.
Anything surprise you?
I'm always surprised by the energy and ferver that LGBTQ Catholics have for their faith. They have made a very intentional decision to stay a practicing Catholic, often despite outright discrimination and defamation by the very communities in which they yearn to belong to.
How can others get involved?
We'd love help with a variety of projects. We encourage Marianist Lay Communities interested in dialogue on LGBTQ Catholic issues to meet with us through our "Place at the Marianist Table" program. We also have a resource guide for Marianist and Catholic schools to facilitate dialogue in open and meaningful ways and continue to offer additional support to our Marianist schools and ministries. And we hold a semi-annual retreat for LGBTQ Catholics and Allies where all are welcome. Learn more or contact team chairs:  Dominic Garascia or Ish Ruiz.
Marianist Family Members in the News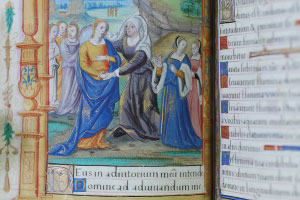 Mary in Miniature
The Marian Library exhibit called "Mary in Miniature: Books of Hours in the Marian Library's Collection" is open through July 17 at University of Dayton. From 1250 to 1550, the Books of Hours — devotional books centered on a series of prayers to the Virgin Mary — were the best-selling book in Europe. This exhibit highlights their art, their text and their unique features. Books of Hours not only contain artistic masterpieces in miniature, but also provide a window into the religious and social lives and customs of their medieval readers. Read more
Marianist Ministries in Action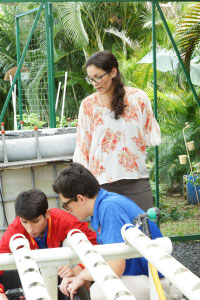 Gardening and Recycling Efforts Keep Evolving at CSJ
For more than 10 years, student organizations at Colegio San José have been experimenting with recycling initiatives and food production to promote environmental consciousness and a healthier planet.
In addition to sorting through aluminum cans, paper and plastics, and preparing them for pick up by a recycling company once a week, the students have been repurposing these materials for art projects.
"They create paintings, collages and other art with the recycled trash," said Kamil Berríos, Recycling Club moderator. "Students also create short video ads and 'go green' announcements." The ads run on the multi-media system in each homeroom to encourage sustainability practices.
Students in the Ecology Club grow a garden each year. "Each Thursday, we weed and water the plants," said senior Fernando del Valle, an Ecology Club member. "We also try to educate members and students about how to plant and maintain their own gardens."
"Typically, we grow tomatoes, sweet potatoes, spices, such as oregano, and succulents," said Mildred Padilla Candelario, Ecology Club moderator. "Students are currently developing an aquaponics system for growing plants using water mixed with fertilzer. The garden was established 11 years ago, and our methods keep evolving."
Foundation Day Celebration
On Sunday, Feb. 2, the Marianist Center in Philadelphia celebrated Foundation Day with local Marianists. Toni Mesina, national coordinator for Marianist LIFE, facilitated a day retreat focused on Mary as the Model for Discipleship. Twenty-six lay and vowed religious participants (including the Center's staff) gathered from Maryland, New York, New Jersey and throughout eastern Philadelphia. Our day ended with Mass celebrating the Presentation of the Lord, where the Marianist family recommitted themselves to the tradition and mission of the Marianists. See more photos.
Please join us in prayer for these members of the Marianist Family.
Fr. Bernard Lee's obituary: Fr. Bernard died on Jan. 26. His obituary was not completed in time for the January issue of FamilyOnline. It is available now. Read his obituary.
Changemakers – Helping Us Continue the Legacy of Dr. King
Changemakers is the theme of an interfaith, intergenerational workshop that will take place on Saturday, April 4, at the Marianist Center in Philadelphia. The program, scheduled on the anniversary of Martin Luther King Jr.'s death, will provide an opportunity for each participant to recommit to Dr. King's vision in a practical way.
Changemakers is sponsored by the Marianist Social Justice Collaborative and the Office of Peace, Justice and Integrity of Creation of the Marianist Province USA. It is rooted in the Marianist tradition of service, community and social justice. Participants will explore the social justice needs of our local and global communities and identify specific steps we can take to make a bigger difference in working for positive changes, today and in the future.
The conference will feature two outstanding speakers:
Bishop Dwayne Royster, interim director of POWER, a faith-based community organizing initiative in Philadelphia, and National Political Director of Faith in Action, the nation's largest faith-based movement for social justice
Esther Chavez, immigrant rights advocate who worked with St. Oscar Romero at the time of his assassination
Click here for more information and to register. There is a discounted rate for students and scholarships are also available to anyone who needs financial assistance to attend.
Questions – contact Jim Vogt or Brian Reavey.
Marianist LIFE 50th Anniversary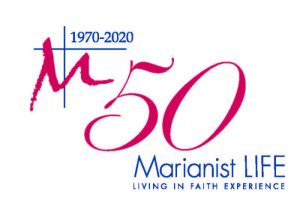 Fifty years of Marianist LIFE (Living in Faith Experience) means a really REALLY big celebration. The national summer program at St. Mary's University in San Antonio will host hundreds of student LIFErs, their Home MLC moderators, and our amazing staff members. We are collaborating with the university on a number of projects to make this summer program truly memorable.
LIFE is a national faith-formation program for high school students, rooted in Catholic teaching and the Marianist charism. Since 1970, Marianist LIFE communities have developed in many parishes and high schools. There are approximately 40 institutions actively involved with Marianist LIFE.
Marianist Life 50th Anniversary Events
Summer Program Registration
Due: March 31, 2020
Click here for registration information
LIFE Alumni Weekend:
July 16-19, 2020
For young adults ages 18-30
To register click here
50th Anniversary Celebration:
Saturday, July 18, 2020
7:30 pm Mass at Holy Rosary
Social to follow at St. Mary's University
Click here to RSVP
For more information, contact Toni Mesina or Sierra Christian at [email protected] or 215.634.4116.
The Marianist Province Seeks New LIFE Program Coordinator

The Marianist Province of the United States is seeking a Marianist LIFE (Living in Faith Experience) program coordinator. LIFE is a national faith-formation program for high school students, rooted in Catholic teaching and the Marianist charism. Since 1970, Marianist LIFE communities have developed in many parishes and high schools. There are approximately 40 institutions actively involved with Marianist LIFE. Learn more.
---
Campus Minister for Community Service – Moeller High School

Archbishop Moeller High School located in Cincinnati, Ohio, is seeking a campus minister for the 2020-2021 school year. As a key member of the campus ministry department, the campus minister leads a variety of programs for students, both during and outside of school hours, which are rooted in Catholic social teaching. Learn more.
FamilyOnline Submissions
We welcome and encourage submissions of interest to our nearly 3,400 subscribers. Please send them to Bernadette McCaffrey Groner.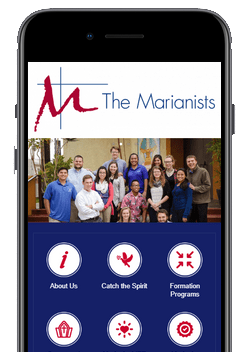 GET CONNECTED!
Stay in touch with the Marianist Province by downloading our new mobile app!

Download your free copy today for easy access to information that supports the work of Marianist-sponsored ministries. Compatible with Apple iOS and Android devices.