In this season of waiting: Marianist Advent podcasts
If you are looking for a meaningful way to observe Advent, consider tuning into "Advent Meditations," four short podcasts produced by Sr. Gabrielle Bibeau in conjunction with the North American Center for Marianist Studies(NACMS).
Each 10-minute podcast contains a reflection on one aspect of Mary relating to the Advent season: 1) The Annunciation; 2) The Immaculate Conception; 3) The Visitation; and 4) The Nativity.
"Our goal with these podcasts is to help you pray in a new way about Mary and her presence in the Advent Season," said Sr. Gabby, who created the series last year.
Each podcast includes a scripture reading, narrated by Bro. Tom Redmond, and a few minutes of silence to ponder the readings, along with questions for reflection.
"We suggest that you listen to each episode in a quiet place – in your car, a comfortable chair or even on a walk by yourself," said Sr. Gabby. "We invite you to relax and remember that you are in the presence of God."
To access each Advent podcast: click here.
You also can listen on iTunes, Stitcher, or SoundCloud by searching for "Sharing Our Marianist Stories" and subscribe to the podcasts.
For other Christmas gift ideas, prayers and podcasts from NACMS, click here.
Marianists of hope and joy: reimagining the dream
Fr. Ted Ley
Fr. Ted Ley serves as chaplain at Chaminade College Preparatory – West Hills and directs the Schola Cantorum of the Pacific and Escolanía, both choir schools he founded.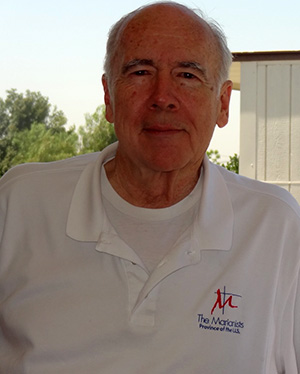 From your ministry, what gives you hope?
Our youngest want to help others, make the world better. Generation-Z is open-minded, inclusive, polite and very supportive of one another.
What aspects of your ministry bring you joy?
When I can provide a joyful opportunity for a youngster who has only the clothes on his back, my heart is buoyant, I'm young again.
One terminally ill mom, after the Last Sacraments, thanked me (in Spanish) for what we had done for her younger boys, and asked me to please continue to help her family. We have, as best we can.
Recently, after completing a lesson with the third-and fourth-graders of our Escolanía at Assumption School, I spontaneously began playing their alma mater. They chimed in, perfectly in three parts, with this:
"We love Assumption School. Together we're at home. We learn, we pray, and win in every way. The Queen of Angels' arm will keep us safe from harm, as joyfully we run in the footsteps of her Son, until the greatest victory in life is won, to give the love of Jesus to everyone."
This gave me what jazz musician Dave Brubeck liked to call "one moment worth years." See more photos. Read ALIVE article  on Fr. Ted from Spring 2017.
Marianist Family members in the news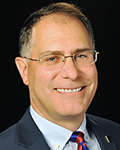 UD president joins national committee to expand college access
University of Dayton president, Eric F. Spina, has joined the national steering committee of the American Talent Initiative, a growing alliance of colleges and universities dedicated to substantially expanding opportunity and access for low- and moderate-income students.
More than 100 public and private institutions have committed to work together through ATI on a shared goal of educating an additional 50,000 high-achieving, lower-income students across the country by 2025. Read more.
Marianist ministries in action
New Marianist Ministry in Juárez Mexico

In August, the Marianists officially began a new educational project in Juárez, Mexico. Bishop José Guadalupe Torres Campos approved the project and expressed enthusiasm for the presence of the  Marianists in his diocese.
Fr. Oscar Vasquez, Provincial of the Marianist Province of the United States, just returned from a trip to visit their new ministry. He reported, "It was a wonderful experience." The ministries include: a Montessori pre-school, a Montessori grammar school (grades 1-6, about 90 students); day care center for working parents (about 25 children daily); a pantry that gives out food to families every Saturday, an informal education center that assists individuals who have not received their high school degree (approximately 20 students), a classroom with 12 sewing machines to assist the women in the area to learn a trade and, finally, a center for young people that want to attend an online university. See more photos.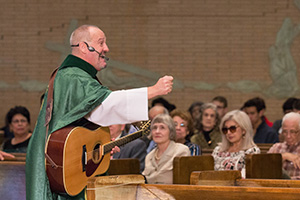 Marianist donor appreciation Mass
On October 27, the Marianists gathered to celebrate and honor the generosity of our cherished donors in San Antonio, Texas.  The event was attended by about 85 individuals and included a Mass at Holy Rosary Catholic Church  presided by Fr. John Thompson and a dinner reception at St. Mary's University. See more photos.
Please join us in prayer for these members of the Marianist Family.
November deaths: Three Marianists died in November, the obituaries of two of those Marianists were not completed in time for the November issue of FamilyOnline. Read the obituaries of Bro. Bernard Zalewski and Fr. William Behringer.
Marianist Moment: Update on the Causes of the Marianist Saints
(Submitted by Bro. David Betz and based on the notes presented by Fr. Antonio Gascon, SM, Postulator General for the Causes of our Marianist Saints to the SM General Chapter of July 2018 in Rome, Italy)
Brothers and sisters, we are reminded that our Marianist Saints are the best living expressions of the Marianist Charism of our founders. It is important for us to look at their lives and to make every effort to imitate them as we seek the grace of God in our own lives. We are being called to open our hearts and to petition our saints to intercede for the men and women who we feel would benefit from God's loving embrace through a miracle.
At this time I am presenting an update on the status of the Causes of our Marianist Saints to let you know where the causes stand: there are 13 causes of canonization that are open and they are considered actives cases: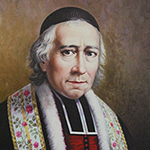 Blessed Chaminade: was beatified in 2000 by St. John Paul II and we are waiting for a second miracle. We had a strong hope in the case of Rachel Lozano Baumgartner from St. Louis, MO who had a rare cancer and after the Marianist Family prayed for her healing, it seemed that the cancer was cured. Rachel's doctors felt that the cure was not the result of their medical intervention but the medical commission in Rome, after its initial investigation, did not agree. The decision has been appealed and Rome is now waiting for an updated report from the St. Louis medical team. If the final decision of the medical commission in Rome is negative after reviewing the St. Louis medical team's updated report, then no further appeal is possible.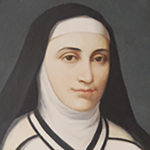 Blessed Adèle (Mary of the Conception): Mother Adèle was beatified on June 10, 2018 after a miracle was approved by Pope Francis in May 2017. The miracle was the healing of Sr. Michela Messina, FMI, from the Daughters' Italian Province in 1997. Liturgical texts for Blessed Adele are being prepared at this time. Continued prayers are needed for a second miracle.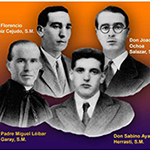 Blesseds Jakob Gapp (Austria); Carlos Eraña; Fidel Fuidio; and Jesus Hita (of Ciudad Real, Spain); Miguel Léibar; Sabino Errasti; Joaquin Salazar; and Florencio Arnaiz (of Madrid, Spain): All eight of these Blesseds need a second miracle for canonization to occur.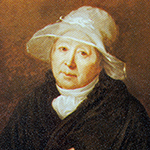 Venerable Marie-Thérèse de Lamourous: Her cause was opened in 1911. The Society of Mary took up the responsibility of the cause and Fr. Verrier completed the Positio (which is the position paper on the life and deeds of the individual) in 1978. She was declared Venerable in 1989 by St. John Paul II. At this present time the SM is not working on her cause.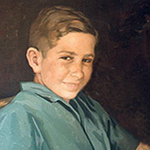 Venerable Faustino Pérez-Manglano Magro: Faustino, a teenager from Valencia, Spain and attended an SM school, died from Hodgkin's disease at the age of 16. He had a strong devotion to Mary and regularly prayed the Rosary. His Positio was presented in 1994 and got a positive vote in 2010 and then declared Venerable in January 2011. A miracle is needed for Faustino to be declared a Blessed.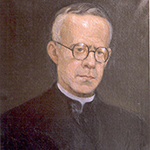 Servant of God Fr. Domingo Lázaro Castro (1877-1935): Domingo was the 1st Spanish provincial and he was an educational leader in Spain. His cause was opened in 1988 and the Positio was presented in 2013. After an initial examination in 2013 by the theologians, more information was requested and further examination and questions. The questions were answered by 2017 and there is hope that he may be declared Venerable when the next session of the theologians meets.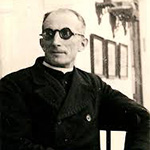 Servant of God Fr. Vicente López Uralde (1894-1990): From Cadiz, Spain, where he worked at San Felipe Neri School. Vincente was a well-known confessor and was very well beloved by the people of the city. His Cause was opened in 2008 and his Positio was presented in 2017 and waiting for the examination by the theologians.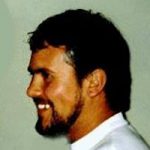 Miguel Angel Quiroga (1972 to 1988): He a was young Colombian Marianist brother who was killed by paramilitary personnel while defending a group of farmworkers as they were returning to their village to celebrate its patronal feast day. Fr. Antonio Gascon said that it may be possible to use the category which is called the Third Way of Holiness – donation of one's life because of love. He is looking at opening this Cause and to see if this category would be a possibility.
Conclusion: As stated above, there are 13 active Causes. The Causes for Marie-Thérèse de Lamourous and Miguel Quiroga are not considered active at this time. Fr. Antonio Gascon is requesting that the units in the Society of Mary work locally and diligently in promoting our Marianist Saints. He stresses that our Saints are important parts of the work and mission of the Society of Mary and the entire Marianist Family. The promotion of our Marianist Saints contributes to the spreading of the good news of our Marianist Charism. So I invite you to reflect upon what you can do to assist in this venture and if you have any ideas please, feel free to contact Bro. David Betz.
"Family of Mary" gathering January 27
St. Louis-area members of the Marianist Family will want to mark their calendars to attend the annual foundation celebration of the Family of Mary Lay Community. The event, held at St. Mary's High School in St. Louis, includes Mass and a presentation by Bro. Mark Motz. Learn more.
Fr. Jim Heft creating new series of videos
In addition to Fr. Jim Heft's informative blog Touchpoint, he has started to develop videos. In the coming months, he will be sharing some videos on topics of faith.  His blog and his new series of videos are available on the website of the Institute for Advanced Catholic Studies . Watch the first video.
FamilyOnline submissions
We welcome and encourage submissions of interest to our nearly 3,400 subscribers. Please send them to Bernadette McCaffrey Groner