Meet Us at the Crossroads II
Marianist schools challenged us last month to find a way to support the goals of Marianist Family Encounters Project (MFEP), a response to the cry of the poor and the cry of the earth outlined by Pope Francis in the proposals, Global Compact on Education and Laudato Sí Action Platform.
Throughout last year, Marianist schools and ministries made pledges. They initiated projects to lessen their environmental impact, improve the quality of life for people living in marginalized communities, and support MFEP's goals.
Since putting a plan in place, students and ministries have been busy acting on them. MFEP projects run the gamut. For example:
"People often only hear bad news regarding these global issues," said Bro. Steve O'Neil."But by getting involved, doing something, we believe people will gain a sense of hope."
If you'd like suggestions or advice on how to get involved or incorporate an activity in your school or group, you can contact Bro. Steve via email at [email protected].
Click the pictures to read more about the initiatives of the schools and ministries mentioned above.
University of Dayton Research-Industry Partnership

Chemical and hardware manufacturers are seeking industry research at University of Dayton (UD) to examine whether drones are the answer to precision agriculture.
"We've had a lot of additional interest in drone spraying since the U.S. Environmental Protection Agency started accepting and reviewing results from tractor spray drift experiments in our Low-Speed Wind Tunnel in 2019," said UD Assistant Professor of Mechanical and Aeronautical Engineering Sidaard Gunasekaran.
"When we spray a field now, we broadcast spray the entire field," said Kyle Butz, a technical adviser with Spray Analytics. "With drone spraying, we're trying to examine whether we can effectively target portions of the field or use less chemicals. We call it 'precision ag,' and we hope to use it to be better stewards of the land."
Chemical and hardware manufacturers and government officials are invited to an event May 24-25 at the University of Dayton's Kettering Laboratories.
Research Showcase 2023
The scholarly and creative works and research of St. Mary's University faculty and students were highlighted at an annual showcase earlier this month. The theme of this year's Research Showcase was Laudato Sí.
Tuesday, April 18, was designated as an alternative learning day by the Provost and Executive Vice President for Academic Affairs. A series of concurrent presentations occurred in the morning, followed by a St. Mary's alum panel and the 24th Annual Research Symposium and Creative Activities Exhibition in the afternoon. The day closed with a keynote speaker and awards ceremony.
The following day, each of the schools across campus hosted an open house (School of Science, Engineering and Technology; College of Arts, Humanities and Social Sciences; Greehey School of Business and School of Law).
Journeys of Faith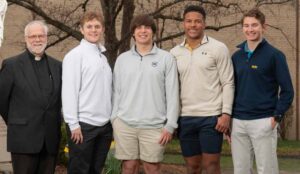 Formation in faith is one of the characteristics of Marianist education. Archbishop Moeller High School in Cincinnati, OH, teaches in the Catholic faith; but for those who aren't Catholic, the purpose is to help students reflect on their faith, whatever it may be.
Sometimes that deep contemplation leads students to the Catholic creed. This year, four students who—after reflection, discussion, and instruction—entered the Catholic faith: Boston Socha '23, Ethan Hawyschuk '24, Jordan Marshall '24 and Dylan Wahl '24.
These young men met with Campus Minister Steve Joebgen, Religion Teacher Jerry DiCristoforo, and Campus Chaplain Fr. Tom Kreidler at 7:00 on Friday mornings (itself a sign of interest and commitment) as well as other times to delve more deeply into Catholicism and the Marianist tradition.
Click here to read personal thoughts about their journeys of faith.
Mission Day
The annual St. John Vianney High School Mission Day raised funds to support its Marianist sister school in Nairobi, Kenya: Our Lady of Nazareth (OLN). Students were educated about the needs of the students in Kenya through photos and information on a slideshow during lunches. Morning announcements each day also included teachings about the costs to educate and feed the students. Social media was utilized to paint a picture of the living conditions of students. A school-wide goal was set to cover the costs of school supplies, textbooks, uniforms, meals, and tuition for all current students at OLN.
The following week, on Mission Day, students wore the OLN school uniform color red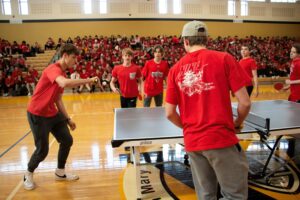 instead of their classic black and gold to show support for the students in Kenya. Students donated more than $4,500 to Our Lady of Nazareth.
A few weeks later, Fr. André-Joseph Fétis and Bro. Michael McAward from the Marianist General Council in Rome visited Vianney and shared testimonies about their personal experiences visiting OLN, reiterating the importance of the success of this mission. Click here to see more photos.
Marianist Ministries in Action
Marianist Sponsorship Celebrates 10th Anniversary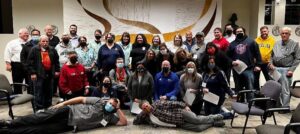 The leadership of Marianist schools and ministries has always been the primary responsibility of Marianist brothers and priests. But with a smaller pool of vowed Marianists in active ministry, the Provincial Administration recognized the need to better equip lay educators and leaders to carry out this most important mission and vision. Ten years ago, they adopted a Marianist Sponsorship model to strengthen and maintain the Catholic and Marianist identity of their apostolic ministries and K-12 education.
It was a move that came naturally, says Bro. Jesse O'Neill, assistant for education, whose office oversees the Office of Sponsorship. "Since its founding, the Society of Mary has promoted the formation and empowerment of the laity in its mission. In this same spirit today, we form our presidents, principals, retreat directors, and teachers as Marianist educators."
As he looks back on the last decade, Office of Sponsorship Director Dan Donnelly says, "I am most happy with how we built and strengthened relationships with our sponsored ministries – a network of 17 secondary schools  and four retreat centers – and have worked together with them in the spirit of trust and cooperation to achieve our goals."
Among those goals:
A mentoring program for new key administrators, "accompanying them as they learn the fundamentals of Marianist education and administration," states Donnelly
A redesign of a workshop called Teaching as Ministry to introduce Marianist educators to the Characteristics of a Marianist Education, the guiding principles that articulate the characteristics that make their institutions distinctly Marianist
A new workshop called Head-to-Heart for educators that continues the formation process in Marianist spirituality
Donnelly credits the Office of Sponsorship team, including Erica Duarte, Larry Keller, Pat Wheadon, and Mary Holtmann, for the program's success. "They have provided great leadership and energy supporting the Marianist charism."
Looking ahead, Donnelly foresees a continuation of their present work. "Our role is to accompany and support Marianist-sponsored schools and retreat centers as they assist Mary in bringing Christ to the world," he says.
Bro. Jesse adds, "Chaminade reminds us that we teach by every word, every gesture, every look. The Office of Sponsorship assists our schools and retreat centers in creating a culture that allows this to happen. I believe a Marianist education is our greatest gift to the world."
A Marianist Moment
Recently, I had the pleasure of recording a podcast with the North American Center for Studies (NACMS) for its Sharing Our Marianist Stories Series. It was posted this month. Gabby Bibeau, Research and Program Assistant, as well as the producer of the podcast, interviewed me about our Marianist Saints. It gives you the opportunity to learn more about who are our Marianist Saints and get a sense of the canonization process. At one point during the interview, I was asked to identify individuals in the United States who could be chosen to enter the canonization process. I now invite you to consider this question and let me know your choices at [email protected].
Click on the link below and enjoy!
Marianist Gallery Social Spotlight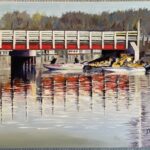 Gallery St. John, the last Marianist gallery, has a new stage, and it's set on social media. Bro. Brian Zampier, with the blessing of artist and gallery assistant  Bro. Louis Fournier, has created a new Facebook page to help publicize the studio in Dayton, OH. It is a treasure trove of Marianist craftsmanship, including more than 100 framed photos by Bro. John Lemker, and art by the likes of Bro. Joe Barrish and Bro. Don Smith.
Click here to find the Facebook page, and once there,
click the "Like" button to follow for special art signings and showcases.
If you'd like to see more from the Marianist Archives, visit and "like" this Facebook page.
Please join us in prayer for these members of the Marianist Family.
Brink of Enlightenment
Bro. Ed Brink considered himself a renegade environmentalist with a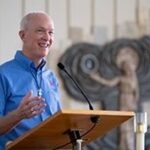 mission to save the planet as he pursued a college degree in Environmental Engineering Technology. The New York native found his footing at the University of Dayton, and that decision changed the trajectory of his path forever.
With the encouragement of his professor, Fr. James Heft, Brink thought deeply about committing to the religious life of a Marianist. "I went to my first meeting, and I got scared away," recalls Brink. "Honestly, I wasn't sure this was going to be for me."
However, the acts-of-service component of his Marianist education prompted him to live in a Marianist community during his junior and senior years. The rest, you may say, is history – a long and thoughtful history. He professed his first vows in the Society of Mary (Marianists) on Aug. 11, 1985.
"It's a long and involved process to become a perpetually professed brother," Brink says. "Formation never really ends for a Marianist; it is a life-long process of spiritual renewal, personal growth, and committed service."
Click here to read more.
Hollywood Comes to Campus
It was lights, camera, and action as the cast and crew of the hit NBC series Magnum P.I. descended on the Chaminade University campus during spring break to film scenes for an episode in season five.
Perdita Weeks, who plays Juliet Higgins in the show, also directed the scenes that included Jay Hernandez, who plays Thomas Magnum. Set designers transformed the President's conference room into a fictitious office, and a stuntman was seen hanging from a window. Filming required more than a dozen extras, loads of equipment, and set construction. The scenes will be in an upcoming episode this fall.
FamilyOnline Submissions
We welcome and encourage submissions of interest to our nearly 3,600 subscribers. Please send them to Theresa Petry.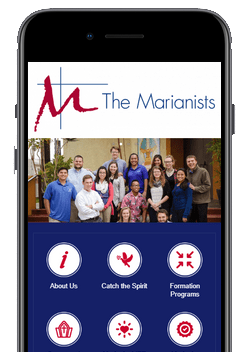 GET CONNECTED!
Stay in touch with the Marianist Province by downloading our new mobile app!

Download your free copy today for easy access to information that supports the work of Marianist-sponsored ministries. Compatible with Apple iOS and Android devices.