Volume 20, Number 3
|
March 30, 2021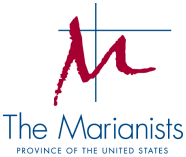 Editor: Bernadette McCaffrey Groner; Communications Specialist: Theresa Petry. This monthly email newsletter produced by the Society of Mary features news about the Marianist Family: Marianist brothers and priests (Society of Mary), Marianist Sisters; and Lay Marianists. Fr. Oscar Vasquez, SM, provincial; Bro. Bernard Ploeger, SM, assistant provincial. Send news, digital photos and comments and suggestions to editor Theresa Petry using FamilyOnline as your subject line.
CHANGE IN EMAIL ADDRESS: Send to [email protected]
BACK ISSUES/SEARCH (August 2011 and earlier): Visit www.marianist.com/familyonline-archive.
Subscribe to FamilyOnline Unsubscribe me
4425 West Pine Blvd. St. Louis MO 63108-2301

NOTICE: The original content and materials available through this website (Marianist.com) and other websites or publications (such as FamilyOnline and ALIVE Magazine) are owned or provided by the Marianist Province of the United States (Marianist Province), and are protected by copyright, trademark and other intellectual property laws. You may view, copy and print pages from our website(s) or other publications only (1) for personal use, provided that you maintain all copyright, trademark, and other proprietary rights or notices, (2) as a personal resource, or (3) for communicating with the Marianist Province. You may not otherwise use, reproduce, download, store, post, broadcast, transmit, modify, sell or make available to the public content from our website(s) or publications, including our logos and name, without the prior written approval of the Marianist Province.