PULSE celebrates Means Community House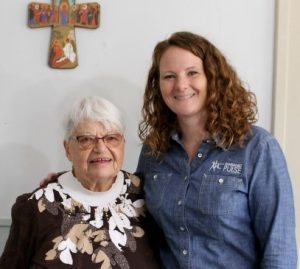 "Deeply grateful" is how many felt as they gathered on Sunday, Nov. 4, with PULSE volunteers and other Marianist community members in Dayton, Ohio, to celebrate the final refurbishing and blessing of the Michael Means Community house. Frs. Bob Jones and Ted Cassidy presided over the house blessing.
"We are especially happy to share this occasion with Joan Means, who graciously helped us purchase this house in 2017 in memory of her late husband, Michael, and thankful for all of you who shared your time and talent to form this home into a Marianist community," said Maureen O'Rourke, PULSE program coordinator.
2018-2019 PULSE volunteers live in two communities in Dayton: the Means Community and the Marshall Community, named for the late Fr. Paul Marshall, an inspiring witness to social justice and a faithful champion for implementing the PULSE program.
The PULSE (Partners in Urban Leadership, Service and Education) members – or MP3 – as this third Marianist PULSE cohort calls themselves, are comprised of eight young adults. The group was commissioned last summer to serve for a year in nonprofit organizations in Dayton while living in a Marianist Lay Community and learning more about the Marianist charism. Read Maureen O'Rourke's Means Dedication Reflection. See more photos.
Marianists of hope and joy: reimagining the dream
Bro. Tom Wendorf
Bro. Tom Wendorf is an English professor at University of Dayton.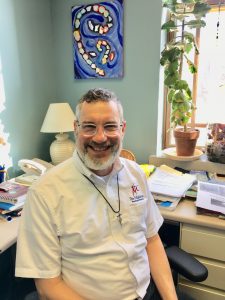 From your ministry as a college professor, what gives you hope?
Seeing when a poem, a story or a novel awakens a student, even if momentarily, to some aspect of life. Also seeing students make connections between their lives and what they've read — that a poem set in 1300 A.D. can speak to their concerns about prayer or justice today; that the words of Walt Whitman about America can stir them with conceptions of country more generous and vibrant than we have today. Such moments of recognition affirm my hope in the power of literature and in the young students whose attention, as for most of us, is already conditioned but who can be coaxed into new attentiveness by works of art.
What aspects of your ministry bring you joy?
When students take off in a discussion that captivates the whole class. It doesn't happen every day or without a certain amount of priming, but when it does, I'm especially joyful about the active learning that's taking place. I live for such moments as a teacher and try to foster the atmosphere for them.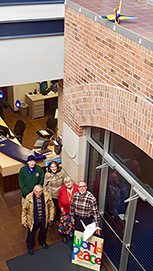 Bro. Brian's 1,000 peace cranes
In addition to being an artist and working in the Marianist National Archives in San Antonio, Bro. Brian Zampier undertook  a Peace Crane Project. In February 2016, Bro. Brian began a project of making an origami peace crane each day. He sees the peace crane as a symbol of the Holy Spirit. Each crane was constructed from handmade paper, made by Bro. Brian. His aim was to make and give away one per day for a thousand days while praying for world peace. Most of the cranes were placed around the campus of St. Mary's University.
Bro. Brian reached his goal of a thousand peace cranes on November 14. Reflecting on the Peace Crane Project, Fr. Oscar Vasquez, Marianist provincial, wrote: "Blessed Chaminade called us to be missionaries. Blessed Chaminade called us to  be missionaries and to look for new ways to change our times. This is what Bro Brian is achieving." See abzcraneproject for more information. See more photos.
Marianist Family members in the news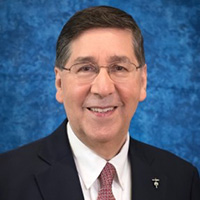 New executive director of AMU
Bro. Thomas F. Giardino will serve as the new executive director of the Association of Marianist Universities (AMU). Bro. Tom previously held the position from 2012 to 2015. With his more recent service as provincial assistant for education and as a trustee on all three Marianist university boards, Bro. Tom returns with a fresh understanding of our ministries, cultures and people. His expanded perspective enhances his ability to support, promote and advance Marianist higher education and the collaboration and exchange of experiences among the institutions. Read the announcement.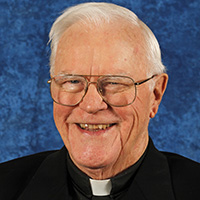 Sharing a "go to" story on the radio
Fr. Ken Sommers was featured on WYSO Radio's segment called "Senior Voices." Each week, and older person shares a story.  Fr. Ken shared his "go to" story about being on the Chaminade (Dayton) football team under Coach Gerry "Fuzzy" Faust.  Listen to his story.
Marianist ministries in action
Sponsorship Office helps enrich Marianist Charism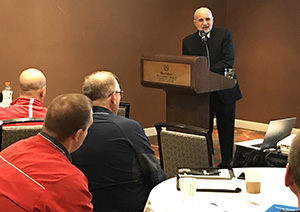 The Marianist Office of Sponsorship hosted three successful formation events during October and November.
• Board Development Workshop: October 19–20
• Marianist Administrators Conference: October 21–23
• Head-to-Heart: Marianist Spirituality Workshop: November 5–7
At the Board Development Workshop, Jack Peterson of Managing for Mission led participants through a series of presentations to help strengthen the governance and leadership practices of their Marianist-sponsored ministry.
The Marianist Administrators Conference (MAC) featured a two-part presentation by Bro. Armand Alcazar, FSC, titled "Accompanying our Youth on their Faith Journey." Bro. Armand is a contributor to the Going, Going, Gone research project. He guided discussions and reflection on why young people leave the Catholic Church, and the implications this has on the work of Marianist-sponsored ministries.
The Head-to-Heart (H2H) workshop took place from November 5-7 at the Marianist Retreat and Conference Center in St. Louis. This workshop welcomed lay collaborators from 18 Marianist-sponsored schools and retreat centers. Participants learned ways to live Marianist spirituality in everyday experiences and provided practical applications to deepen the expression of the Marianist Charism. See more photos.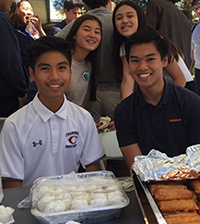 Chaminade students start Filipino culture club
Four sophomores at Chaminade College Preparatory in West Hills, California  started the school's first Filipino Barkada Culture Club.  Philippine News wrote an article about the new club which has already recruited more than 50 members who want to learn about Filipino culture and raise funds for two charities.  The Barkada Club is just one of the school's 85 academic, social, service and cultural clubs. Read the article.
Marianist Family sponsors Day of Discernment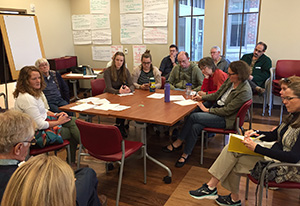 More than 60 lay and religious members of the Marianist Family from the greater Dayton area gathered on November 3 for a Day of Discernment at the Madeleine Room in the Chaminade Center at Mount Saint John. The purpose of the Day of Discernment was to identify  a social justice initiative that could be undertaken as a collaborative effort  by the Marianist Family.  Learn more. See photos.
Marianist formation weekend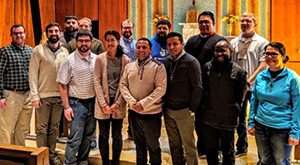 November 15-18, 28 young men and women in different stages of initial formation attended their annual formation weekend. The topic for this gathering was "Collaboration with Marianist Lay Communities." Joined by their formators, they met for a wonderful program at Mother Boniface Spiritual Renewal Program in Philadelphia. The weekend was hosted by The Marianist Center for Lay Formation (MCLF) in Philadelphia. Three provinces were present: the Marianist Sisters, the Meribah Province and the U.S. Province.
On Friday, presentations on collaboration were given by Bro. Jack Ventura, Sr. Grace Walle, and Matt Dunn (chair, Marianist Family Council of North America)
Saturday, the group traveled to the MCLF where they had a wonderful panel of committed Lay Marianists which included Toni Messina (Marianist Life), Brian Reavey (Office of Justice, Peace and the Integrity of Creation), Mary Vanderhoof, (Marianist Social Justice Collaborative), and Linda Zappacosta (NE Marianist Family Council). Local members of Marianist Lay Communities and Lay Marianists were also invited to attend the panel discussion. The panel was set in a newscast-style, "produced" by Sr. Grace and moderated by Bro. Jack and Matt Dunn. The weekend concluded with a social at the Marianist Center and Eucharist celebration.  See photos.
Please join us in prayer for these members of the Marianist Family.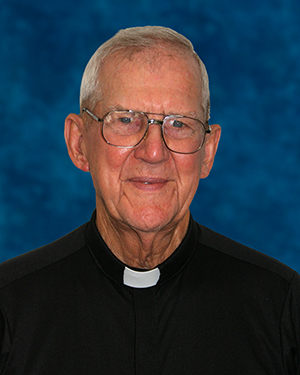 Fr. Donald Cowie, 89, died November 8, 2018.  Fr. Don was a beloved teacher, chaplain and novice master serving in many Marianist schools communities and ministries.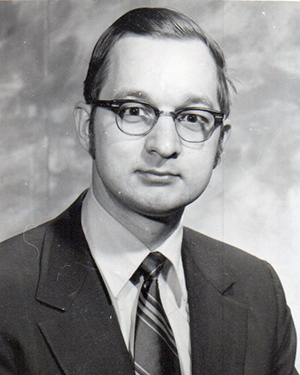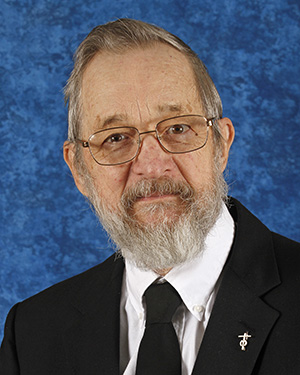 Bro. Bernard Zalewski, 81, died November 10, 2018.  Bro. Ben was a teacher, professor and software consultant who served at University of Dayton in Ohio and several Marianist high schools throughout the United States and in Africa. His obituary will appear in the next issue of FamilyOnline.  See more photos.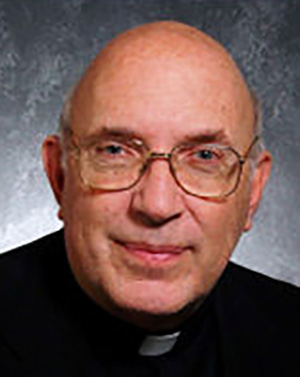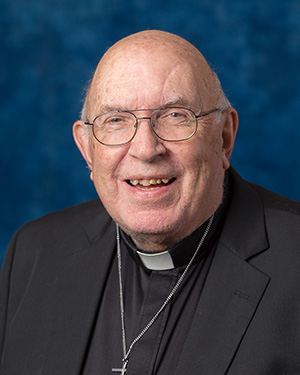 Fr. William Behringer, 86, died November 20, 2018.  Fr. Bill was a teacher, chaplain, administrator, and a Marianist formator. In his more than 69 years of dedicated religious profession, he served as provincial, master of scholastics and director of novices (in both the United States and Africa). He also served as a member of several General Chapters. His obituary will appear in the next issue of FamilyOnline. See more photos.
Marianist Moment: In honor of Blessed Adèle's beatification

We will continue to present articles written by members of the Marianist Sisters in honor of Blessed Adèle de Batz de Trenquelléon's beatification. Her beatification took place on Sunday, June 10, 2018, in Agen France.
Each sister shares a reflection concerning Blessed Adèle's life and invites the reader to pray and consider questions that she presents at the end of the article. Please read these articles and pray for the entire Family of Mary as we celebrate Blessed Adèle's official recognition in the Communion of Blessed.
In this issue, we present, "Proclamation of the Gospel" by Sr. Tere Ferre, FMI, from the Santa Maria Community in Ranchi, India, in which she offers her reflections on Blessed Adèle's words and beliefs— that the proclamation of the Gospel has to be done in our daily life, guided by the Holy Spirit. Read the article.
Marianist cemetery restored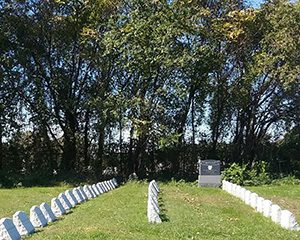 Last year, when the Marianist Eldersburg/Rosedale community met at Sacred Heart of Jesus Cemetery in Baltimore, Maryland, to remember the Marianists interred there, they were disheartened by the conditions of their brothers' final resting place and they decided to work together to restore the site. "It was not easy to find all the flat-to-the-ground markers," said Bro. Tom Trager. "Some sank a bit and were rendered unreadable due to the overgrowth of weeds. All of us had to pitch in weeding and trimming. We made arrangements for the purchase of the above the ground, simple white markers. All who have seen the transformation find it an attractive, reverent and fitting final resting place for our brothers." See more photos.