As Marianists, we seek to embody Mary's attentiveness to the Lord. Through our works, we seek to continue her mission of discipleship.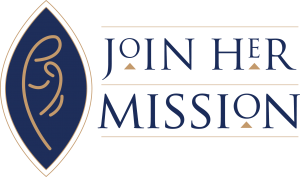 The Join Her Mission endowment campaign is a way you can help us share in this important work.
With your help, the Marianists will rise to the challenge of addressing three priorities through an ambitious campaign that seeks to raise $20 million.
1.  Honor the Past
Over the course of their long working careers, Marianist priests and brothers touch the lives of thousands. They have given unselfishly so that others may grow and find God. Today, more than 200 Marianists are age 70 or older. Many require costly healthcare that now consumes nearly half of our total yearly budget.
The Join Her Mission campaign seeks $5 million to fund an endowment targeted at ensuring our elderly Marianists can live in dignity, grace and community until they are called home to God.
2.  Prepare for the future
Marianist-sponsored ministries — schools, universities, retreat centers, parishes and missionary activities — animate the Marianist charism. They bring to life the words of Mary to the stewards at the wedding feast at Cana: "Do whatever He tells you."
This portion of the Join Her Mission campaign seeks $5 million to sustain formation of those involved with our sponsored ministries, ensuring that our lay collaborators carry on the unmistakable Marianist culture.
3.  Remain faithful to the mission
For decades, the Marianists have worked to "partner with the poor" in Indian and Eastern Africa. Through education, we uplift the impoverished so that they may create better lives for themselves and be the ignition of their own success.
Most of those we serve in these countries live in slums, on the streets, or in rural areas far removed from the modern world.
This element of the Join Her Mission campaign seeks $10 million so that the Marianists can continue to offer hope to those born into lives of poverty and despair.
Join us in Mary's mission
The Marianists are men of God and men of Mary. We also strive to be forward-thinking, strategic planners worthy of your trust and commitment. We encourage you to join us in this vital mission — in Mary's mission — so that we can continue to bring her Son to the world. Together, we can be Christ's hands on earth.
Your gift to the Join Her Mission campaign may take a variety of forms. We welcome gifts of securities, property or other assets. You may give through your will or trust so that your generosity continues beyond your earthly life. You may choose to designate your gift to help endow a specific aspect of the campaign, or you may give to the campaign as a whole.
For more information about the campaign, or to set up an appointment to meet in person, please contact:
Allison Hewitt
Executive Director of Development
314.533.1207
ahewitt@sm-usa.org
Federal Tax ID #31-1657985